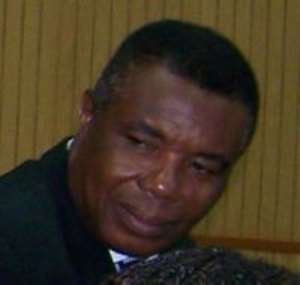 Justice Jones Dotse, the Judge who presided over and convicted Ghana's most celebrated drug king pins, Kwabena 'Tagor" Amaning and Alhaji Issah Abass, sentencing them to 15 years imprisonment in hard labour each, has been nominated for a promotion to the Supreme Court.
The President, John Agyekum Kufuor nominated him together with Justices Paul Baffoe Bonnie, Anim Yeboah and R C Owusu.
The Speaker of Parliament, Ebenezer Begyina Sekyi Hughes, announced this to the House yesterday. "In accordance with Article 144 (2) of the 1992 Constitution, the President John Agyekum Kufuor has nominated Justices Jones Dotse, Paul Baffoe Bonnie, Enim Yeboah and Ms R C Owusu to the Supreme Court," he announced.
"Honorable Members, in accordance with our own Standing Order 172 (2) the nominations have been forwarded to the Appointments Committee for their consideration and vetting."
Justice Dotse found Kwabena "Tagor" Amaning and Alhaji Issah Abass guilty of three drug related offences and sentenced them to a combined 30 years imprisonment on 28th May, 2007.
By Cynthia Boakye