Chief Imam Appeals For Calm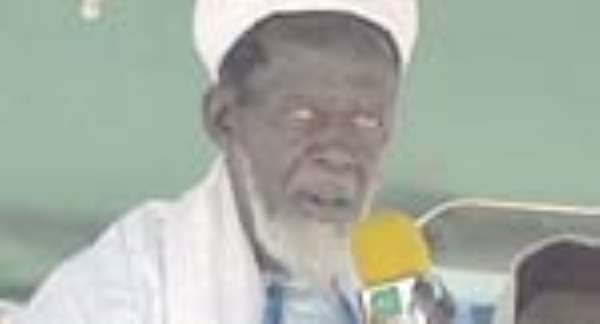 The National Chief Imam has called for calm in the face of the varying opinions being proffered over the unfortunate death of Gafaru Mustapha at Adisadel College in Cape Coast.
In a press release, Sheikh Nuhu Sharabutu, who is also a member of the Ghana Peace Council, noted that when such unfortunate things happen there is need for reflection and the avoidance of reckless utterances which can only inflame passions.
The Islamic cleric, who dispatched a delegation for the interment of the deceased, expressed regret about how certain developments can affect government's efforts at encouraging parents to send their children to school.
In the Islamic communities, some parents are still apprehensive of sending their kids to schools because the think the children might veer off Islam.
He has therefore asked that mainly Christian schools should make room for Moslem kids to practice their faith without hindrance.
To Moslems, he asked that they should not let this development discourage them from sending their kids to school because seeking knowledge is part of the Islamic religion.
The late Gafaru Mustapha, he noted, was a very brilliant student, and prayed for the repose of his soul.
"I would want Christian schools which open their doors to Moslem kids to allow them to practice their religions and to avoid a situation where compulsion is applied on them to go for such rituals as morning devotions," he said.
Moslems should however take it easy and not disturb the many years of cordial relationship existing between the two great faiths, he admonished, adding that "we hope that the Adisadel incident would open a new chapter in the manner discipline is enforced in that institution and others in that category".
In another development, the father of the deceased has asked that "religion should not be brought into the matter because indeed I have prayed at the school on a number of occasions. The students are allowed to practice their faith".
Gafaru Mustapha, 18, died last Sunday when he allegedly jumped from the fourth floor of a new classroom building at the Adisadel College. He was said to be studying on the floor during a morning devotion session at the school, a ritual he father said he has always attended
.By A.R. Gomda