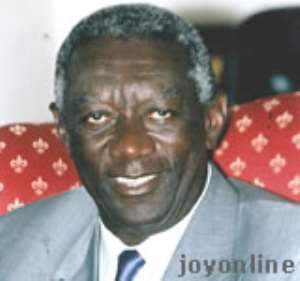 The President, John Agyekum Kufuor has said politicians who fail to meet the expectations of the people should be voted out of power.
The President said this when a delegation of chiefs from newly created Ketu North and Nkwanta North districts of the Volta region paid a courtesy call on him at the Castle, Osu.
On a TV3 evening news bulletin telecast Wednesday, March 19, 2008, he advised the chiefs to vote out of power political parties whose leadership fail to deliver on their promises.
"When parties come into power, and their leaders fail to measure up to good leadership, vote them out," he advised.
He told the chiefs that in other democracies like in Europe and America that is what they do. He said in these democracies, parties that fail to deliver are voted out and other parties that can deliver on their promises are voted into power.
"You should not vote for parties or someone, because they come from the same place with you, or because you speak the same language," he said.
The chiefs were at the Castle to show gratitude to the President for creating the two new districts in the Volta Region.
By Emmanuel K. Dogbevi