OPEN LETTER TO NANA ADDO DANQUAH AKUFO-ADDO FLAG BEARER ELECT OF THE NEW PATRIOTIC PARTY ACCRA, GHANA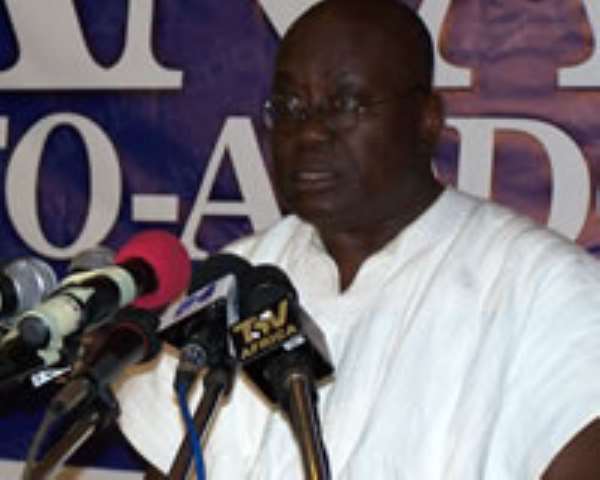 Dear Sir,
Not too many weeks ago, whilst you were in the midst of a frenetic contest to elect the Flag bearer of the NPP, various support groups, such as your own FONAA, emerged to help the bids of the various aspirants. The London Group was formed, first, as an independently subsisting think tank, and secondly, with a pledge to back the candidature of the Vice President, Alhaji Aliu Mahama.
True to our aim as a qualitative and subsisting body intended to survive the 22nd December 2007 NPP Delegates Congress, we are now in a position to officially congratulate you, and, following on the Vice President's own overtures, endorse your election to the New Patriotic Party's Presidential candidature. As befits convention, you paid the VEEP the due respect and recognition, by paying him an official visit post Congress on 14th January '08 to seek his backing. True to his pre-Congress pledge to back anyone who won the Flag Bearership, the VEEP pledged his and his erstwhile supporters' backing for you.
Much as The London Group was minded to gracefully congratulate you, and for that matter, anyone of the aspirants who was elected as NPP Flag Bearer, we exercised a considered restraint in order to now come out, after the dust settled on your election, to throw our intellectual and other material support behind you. This restraint was influenced by the expected flourish of platitudes, accolades and general messages of support, following your election, as well as the expected political immaturity of some elements who would misconstrue genuine concessions and messages of support as motivated by opportunism of people who were previously in different camps to the elected.
The treatment of Mr Koomson, editor of "The Chronicle" was a stark case in point. When he large heartedly sought to congratulate you, he was reviled and critised from pillar to post, as a turn coat, simply because he was previously a vociferous backer of one of your co-aspirants. The London Group has therefore held back till now, to then say - hopefully without an infantile backlash – "congratulations on a well fought contest from which you emerged the elected leader of our dear party". "Victorious" is not an appropriate word in this context, as to use it will pander to the miscued views of some others. The contest to elect President Kufuor's successor as party leader, was no more than just an internal party issue involving several, but like minded candidates with one purpose - to lead the NPP to a third term in political office. The elected candidate, yourself, should not be viewed as victorious, with the rest considered as the vanquished. The manner of the conduct of your erstwhile co-aspirants, in backing you and forming the broad base of your national election campaign team, proves the point. Postings, interviews and public presentations by individuals, and the membership of the London Group, always included a reminder to those who were going hell for leather, hammer and thong, along incendiary and separatist lines, that this contest was only ever an internal affair, and for that matter, people should tone down the peddling of differences that held no hope for a united party once the contest was over.
Mr Flagbearer elect, may we further pledge that, as the well being of the NPP is our pre-concern, we are therefore now fully behind you, and with you, in the battle ahead. Like the VEEP and all your previous co-aspirants, The London Group are united with you and the entire NPP to ensure a historic democratic handing over of power from an NPP government to another NPP government in January 2009, following the December 2008 general elections.
On a not too dissimilar note, Sir, may we turn our declared status as independent, intellectual thinkers, observers and commentators, to henceforth caution, advice, and otherwise guide you along the way, as you grapple with the enormous task ahead.
As a starting point, Nana Sir, the following are issues we hope you will carefully reflect upon, among other things:
*Please beware the bidding of sycophants and opportunists who abound the routes you take;
*Eschew the "them and us" culture, cultivated and maintained by some partisan members, which tend to ostracise and alienate some sections and individuals of the party you now lead;
*Eschew nepotism and ethnic sentimentalities and disposition, which tend to marginalise the NPP as less than a truly national party in its ethos and bearing;
Let your appointments in power, be a departure from the present, and reflect the rich diversity of which the country and the party is comprised;
*Establish a closer relationship between the government and the party, such that the true foot soldiers feel appreciated and rewarded in power, rather than only during primaries, as witnessed during the Flag bearer contest; It is reassuring to note that you have of late being on record to express such an aspiration.
*Pledge to streamline government with only essential ministerial appointments, and avoid the notion of ministerial posts created solely as reward for buddies and cronies, and family;
*Aspire to leave a lasting and credible legacy, by leaving a party capable of retaining power after you, which can only be realised through 'good above self', and transparent policies and decisions;
Nana, sir, The London Group would finally like to thank you for honouring the diasporan party, especially the UK/Ireland branch, by agreeing to attend the Congratulatory dinner/dance organised in London in your honour, on 1st March 2008. Individuals among the group met you in person at the fete, as proof that time has expectedly moved on, and we appreciate the essence of rallying behind you as our preferred elected flagbearer.
May the Good Lord bless you with wisdom, insight, health, servitude, and the good fortune to win the 2008 general elections.
Long live NPP, Long live Ghana, and Long live the NPP Flag bearer Elect.
Sincerely,
THE LONDON GROUP

THE LONDON GROUP
LONDON
UNITD KINGDOM