Man, 65, Steals Water Metres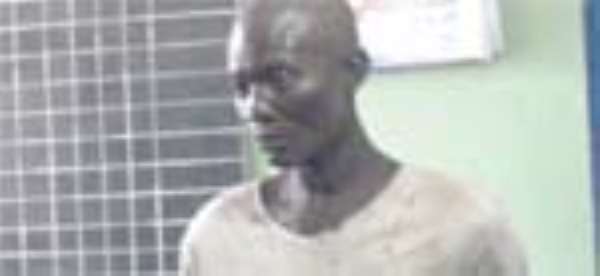 TY-FIVE year-old Ashley Offei has been apprehended by the Dansoman Police for stealing two water metres belonging to the Ghana Water Company Limited (GWCL) at the St Margaret Mary Senior Secondary School at SSNIT Flats, a suburb of Dansoman.
Briefing pressmen at the station on Monday, when the Minister for Water Resources, Works and Housing, Boniface Abubakar Saddique paid a courtesy call on them, Joseph Nyanteh, Head of the Loss Control Team of Acqua Vitens Rand Ltd. said the team had a call from the Headmistress of the school, saying they had caught a man who had tampered with the school's metres.
He said when the team got to the scene, they saw Ashley with the two metres and the saw blade used in cutting them from their original place, and handed him over to the Dansoman Police for further interrogation.
"This is not the first time we have come across such an issue. For the two months that we embarked on our operations, we have come across 59 metres stolen from their original owners," he said.
According to him, the culprits destroy the metres just to remove the brass, melt it and use it for making necklaces, rings and other ornaments.
When asked if the metres could be resold to someone else, Mr. Nyantey said it was not possible because stolen metres were already in other people's names and could be traced.
ACP Florence Arthur, Divisional Commander of the Dansoman Police confirmed the story and commended the Loss Control Team's efforts to clamp down on such perpetrators who were undermining the work of the company.
She said the Police Service was committed to assist anybody who would seek their assistance in combating crime.
"We will also call on the public to report such people to the Police because their activities hinder national development," she said.
ACP Arthur assured the public that such criminals would be brought to book to face the rigors of the law.
Hon. Saddique, who was astounded by the behaviour of Ashley Offei at his age, asked the police not to spare the man but allow the law to work at a fast track pace.
He commended the Police and the Team for the hard work, saying, "Such people should be punished by the land since their activities are a loss to the nation."
By Henrietta Abayie