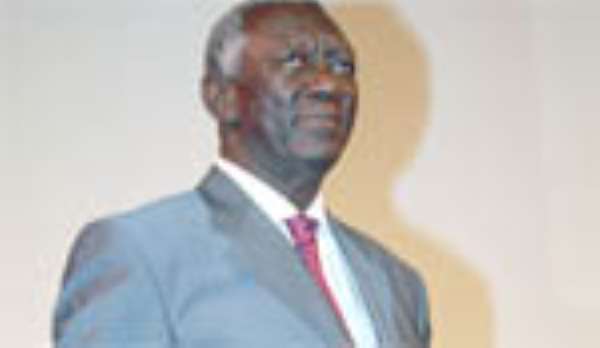 President John Agyekum Kufuor yesterday received the letters of credence of five Diplomats at the Castle, Osu.
The two high commissioners and three ambassadors included William Gordon Williams, High Commissioner-designate of Australia; Ruchi Ghahashyran, Indian Ambassador-designate; Dragan Mraovic, Serbian Ambassador-designate; Mohamed Habib Doutoun, Chadian Ambassador-designated; and Moshe Ram, the Israeli Ambassador-designate.
They took turns to present their letters of credence, as well as letters of recall of their predecessors, to President Kufuor.
Speaking to the diplomats separately at the Credentials Hall of the Castle, President Kufuor reminded them of the longstanding relationships between Ghana and the countries they represent.
The envoys promised to work hard to strengthen and build on the bilateral relationships between their countries and Ghana.
Mrs Ghahashyran, the Indian Ambassador-designate who said Ghana was the first country she was being posted to as an ambassador, promised to do her best to build on the strong foundation of friendship built by the first Indian President and Ghana's first president, Dr Kwame Nkrumah and subsequent leaders of the two countries.
President Kufuor, citing the Presidential Palace that is being constructed with a concessionary loan of $30 million from the Indian government, expressed his appreciation to the Asian country for their "land mark support to Ghana."
Half of the amount was declared as a gift while the other half is to be considered as a soft-term loan which would attract an interest rate of 1.5 percent to be repaid over a 25-year period.
He advised the new ambassador to use her offices to promote more Indian investments in the various sectors of the Ghanaian economy.
Currently, he said, "India is the second largest investor in Ghana."
The Serbian Ambassador-designate on his part praised President Kufuor for his good leadership.
Addressing the envoy, President Kufuor noted that Serbia played an important role in supporting the emergence of the African continent as it featured prominently in the struggle for Africa's independence.
However, he noted, Serbia is at the moment embroiled in complicated issues, stressing that Ghanaian peacekeeping troupe have been in Kosovo since 1999.
The Ambassador-designate of Chad informed the President that his main aim apart from encouraging trade, is to promote cultural relations between the two countries.
He said there are currently 550 Chadian students in Ghana and "I hope that we could work on an agreement for an exchange programme between us for the teaching of the French and English languages."
He acknowledged the effort of President Kufuor in ensuring peace in the sub-region and said Chad now plays host to over 400,000 refuges and 150,000 displaced persons.
President Kufuor asked Ambassador-designate of Israel, who is currently resident in Nigeria, to work towards the re-establishment of the Israeli mission in Accra.
By Emelia Ennin