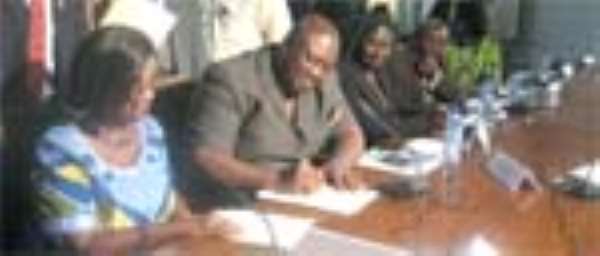 Twenty-two public service organizations have already signed the new charter which seeks to redeem the sinking image of public service providers, and empower Ghanaians to access satisfactory public services.
The Chief Advisor to the President, Mrs Mary Chinery-Hesse who disclosed this during the launch of new charters for eight public service organizations at the Finance Ministry in Accra, hoped the agencies would keep faith with the pledges they made and diligently implement their new charters.
The institutions include Ministry of Finance and Economic Planning, Ministry of Tourism and Diasporan Relations, Food and Drugs Board, Ghana Tourist Board, and Ghana Standards Board.
The rest are Department of Urban Roads, Ghana Highway Authority and Public Services Commission.
The charter documents, formulated by the organizations themselves, set the performance benchmarks which should be used to judge them, taking into account their remit and what they consider as respectable level of service.
Mrs Chinery-Hesse told the organizations that they would be held to their promises and appealed to the public to take advantage of the complaints machinery so as to keep public service institutions on their toes.
It would be recalled that President John Agyekum Kufuor in October last year launched the new charter concept to improve public service delivery systems by defined standards and timely manner, and also arrest frustrations and desperation encountered by the public when they come into contact with public agencies.
By Felix Dela Klutse