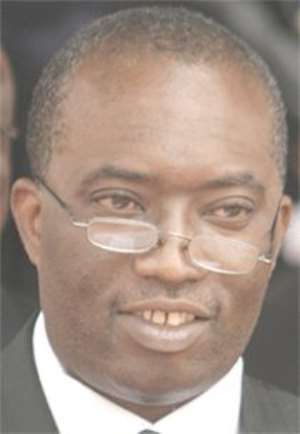 The Government has reiterated its commitment to submit the final Draft Bill of the Freedom to Information Bill to Parliament before the end of the current session of the House, the Attorney-General and Minister of Justice, Mr Joe Ghartey, told Parliament yesterday.
He said the Commissioner of Statute Law Review, Professor V.C.R.A.C. Crabbe, had been tasked by the government to collate the various views which had been expressed by stakeholders on the subject and then prepare a final draft to the Cabinet for onward transmission to Parliament.

Mr Ghartey, who said this in an answer to a question by the Member of Parliament (MP) for Tamale South, Mr Haruna Iddrisu, explained that the commissioner's work was at the advanced stage.

He added that Prof. Crabbe had drawn up a programme to hold workshops with stakeholders to discuss his reports.

The MP enquired from the minister when the Freedom to Information Bill would be laid before Parliament as part of the efforts to combat corruption in the country.

According to him, the Ministry of Justice had over the years been working very assiduously towards the preparation of the bill.

He said as part of the ministry's preparations, staff of the ministry had been sponsored to attend conferences and workshops both at home and abroad.

"Mr Speaker, a draft bill was produced by the ministry. The original draft bill has been discussed with experts. The bill has been discussed with the United Kingdom Department of Constitutional Affairs, the body responsible for the UK's Freedom of Information Act, and also the Commonwealth Human Rights Institute under a programme sponsored by the British High Commission," he said.

Mr Ghartey said in the discussions with experts, several issues were raised which needed to be looked at critically, stressing that on the local front, several stakeholders including individuals and NGOs had submitted memoranda and held meetings with the ministry.

In another development, the Minister of Local Government, Rural Development and Environment, Mr Kwadwo Adjei Darko, has said the ministry was currently reviewing the laws on the sub-district structures in terms of reducing the number of the unit committees, as well as the membership.

He was responding to a question by the MP for Central Tongu, Mr Joe Gidisu, who wanted to know from him the steps that his outfit had taken to make structures such as the unit committees and area councils operate as functional units of the District Assemblies.

The minister said the ministry had recognised that to ensure the efficient functioning of the unit committees and the area councils, there was the need to look at the numbers.

"It is my hope that when this is brought before this august house, honourable members would lend their support to ensure that we have functional sub-district structures," he said.

Story by Kweku Tsen