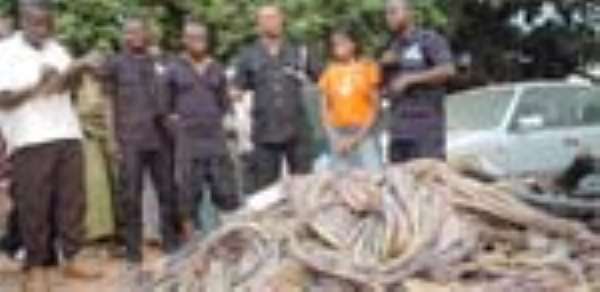 The Nima Police, in a joint operation with the area's Neighbourhood Watchdog Committee, yesterday arrested two people for allegedly stealing a huge stack of Ghana Telecom (GT) underground cables from an area near the Nima Market.
The cables, estimated to cost several thousands of dollars, were found packed in cassette shops owned by one Charles, a Nigerian who lives in the Nima neighbourhood.
Briefing DAILY GUIDE, the Nima District Police Commander, Superintendent Joseph Allotey said Charles, who is now a suspect, was said to have employed the two, Mahama Alliasu, 15 and Cynthia Aboagye, 21 to be operating the shops. They were to act as though they were selling cassettes but were secretly dealing in stolen cables.
He said though they were successful in arresting some of the cable thieves, others "are still on the run including the chief suspect, Charles and we are looking for them".
Mr. Allotey said the Hiace car with registration number GT 5116F that Charles and his accomplices were using is currently in the custody of police, promising a thorough investigation into the case.
Major Albert Don Chebe (Rtd), Head of Corporate Communications, GT, said theft of the company's communication cables had severely affected his outfit's operations, adding that one of the cables contained 2000 small piers which are capable of serving 1000 'home phones' at the same time.
"Apart from depriving over thousand homes of phones, the theft has cost the company way above thousands of dollars," he noted.
He stressed that cable theft interrupted their operations, causing the public to perceive the company as non- performing. "This is dinting the image of the company and putting its efficiency into question, especially when businesses and homes are not able to communicate as a result."
He noted sadly that the effect of this is "the business losing customers due to its inability to link up customers with their relatives and friends".
"This cable is used for jewelries which cost less than the actual money that the company invested into it."
The two claimed to be innocent, arguing that they were just employees who knew nothing about the issue.
By Emmanuel Kubi