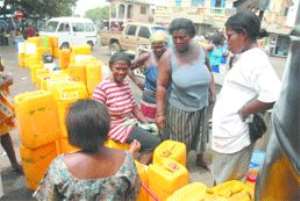 Efforts at addressing the water shortage in Accra have intensified with the drilling and mechanisation of 13 boreholes in the national capital and its environs.
The Minister of Water Resources, Works and Housing, Mr Boniface Abubakar Saddique, who announced this at the Meet-the-Press series in Accra yesterday, said work on six of the boreholes at Tantra Hill, Dome and Ashongman would be completed in two weeks' time, adding that when completed, water supply to those areas would be considerably improved.
Other high-yielding boreholes, notably those at Frafraha and Dodowa, he added, were to be mechanised to boost supply to Adenta and its environs.

Mr Saddique said for areas such as Teshie, La, the La Polyclinic, Osu, Cantonments, Ridge, Nungua and other vulnerable localities, steps were underway to install jumbo water containers at identified areas for direct delivery through tankers.

"Particular locations in these areas have been mapped out for this intervention to begin and it will continue for as long as it is required," he added.

Another major project, Mr Saddique said, was the development of "mega watersheds" in parts of Accra, adding that the project involved deep drilling to tap water from deep down the earth.

He said when the development and supply agreement between the company contracted to drill the wells and the GWCL was concluded, the project would initially inject about 20 million gallons per day into the Accra water distribution system.

"The supply volume will increase with time. This project is envisaged to take six months to complete, when the agreement and all other technical and financial requirements are concluded," he added.

Explaining the immediate cause of the water shortage, Mr Saddique said on Tuesday, February 26, 2008, the Kpong transmission line was shut down for 18 hours for maintenance and repair of a serious leakage.

That same day, he added, Weija was shut down for two and a half hours as a result of a power interruption.

Mr Saddique said on Wednesday, February 27, Weija suffered low voltage, adding that on the same day electricity supply to Weija was interrupted for an hour, in addition to a major pipe burst on the Independence Avenue.

He said on Friday, February 29, there was a two-hour power interruption at Kpong, with another at Weija on Saturday, March 1 for an hour, adding that Aqua Vitens Rand Ltd (AVRL) put out radio announcements ahead of anticipated interruptions.

Putting the situation in perspective, he said when, for instance, there was a five-minute power outage, it took at least five hours to restore water flow. Therefore, the impact of those occurrences on water supply was enormous.

"So the combined effect of the planned and unforeseen power outages at the two plants, Weija and Kpong, combined to aggravate an already uncomfortable water supply situation in Accra," he said.

"As we speak now, the situation has stabilised and production has returned to normalcy," he added.

He said power supply was an important factor in ensuring availability and continuity in water supply, explaining that in order to stabilise power supply to the treatment plants, the GWCL was in touch with the Electricity Company of Ghana (ECG) for dedicated power lines, especially the Weija and the Kpong Water Treatment plants and the Accra and Tema Booster stations, to minimise power interruptions to those facilities.

With regard to medium-term measures to increase water supply, Mr Saddique said the government had obtained financing for a number of projects since 2002. Notable among them, he said, were the Kwanyaku Water Rehabilitation and Expansion Works and the Cape Coast Water Supply Project.

He said other projects to be completed within the next year or two included the Baifikrom Water Supply Project and the Barekese Rehabilitation and Expansion.

Asked if the government would abrogate the contract with AVRL for non-performance, the minister said there was a review period, during which the government would consider the performance of the company and take a decision.

Until then, he added, the company would continue to carry out its functions.

The Managing Director of AVRL, Mr Andrew Barber, said the company had established loss control teams to educate the public and reduce illegal water connection and related activities.

He called on communities to bring out perpetrators of such illegal acts for prompt action.

Story by Mark-Anthony Vinorkor & Jasmine Afari-Mintah