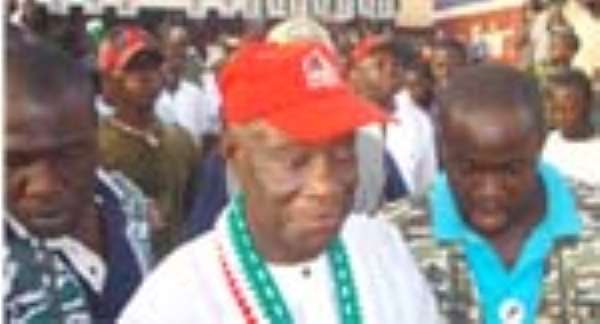 THE OPPOSITION National Democratic Congress (NDC) is fighting desperately to win votes in the New Patriotic Party (NPP's) stronghold of Ashanti Region by embarking upon not just an ambitious project but a strange one as well.
Nana Acheampong, a United Kingdom (UK) based member of the party has decided to offer free haircut to children of NPP supporters as a way of winning more votes to the party in the December presidential and parliamentary elections.
Speaking on Joy FM's midday news yesterday, Nana Acheampong said he was beginning his 'haircutting crusade' from Ashanti-Mampong, an NPP enclave in the region, with a target to mobilize 750 school children through cute haircuts.
He said the strategy was to demonstrate the NDC's agenda which was rooted in its social democracy policy and that it was his intention to spread the message of "I care for you" throughout schools, hamlets and villages.
He noted that his decision to embark on the barbering project was informed by the quest to "brighten the corner where you are and not what you are".
According to Nana Acheampong, most of the time, people of the community did not benefit from their Member of Parliament (MP) and therefore advised that the law-makers focus on policies that would benefit the people.
He boasted that he first initiated the policy in 2000 when he noticed that school-going children had bushy hair infested with lice; a phenomenon that distracted the children from their lessons.
Nana Acheampong alleged that when he started the project in 2000, people of Mampong realized the importance of his haircut project and appreciated him for that.
He stated that he mobilized some professional barbers who did not have places to work, and armed with such people, he marched from school to school giving the children nice haircuts.
The same strategy, according to Nana Acheampong, would be used to reach out to the children in the schools with his 'army of barbers'.
When asked how the haircut of children of NPP supporters would translate into votes, Nana Acheampong said he would leave the decision to the electorate. "You know the NDC is a Social Democratic Party; we are the party that thinks and cares about the people."
He also mentioned other projects that he thought could benefit the people, such as day-care centres where parents could leave their children when going to their farms.
"If we're able to create day-care for our children, say at the age of three years, it will introduce early education to these children and by the age of six years, they would be well-introduced to education.
"We want to introduce this to the families so that the mothers who will be going to their farms can leave their children behind so that when they go to their farms they can increase productivity," he indicated.
Nana Acheampong therefore appealed to the NDC hierarchy to embrace his idea and give it the best support to wrestle power from the NPP in the Ashanti Region.
Earlier, a forum was held for six constituencies in Ashanti-Mampong on Wednesday to strategise and plan modalities for the "operation haircut" among other strategies for the party.
In attendance were the National Executive led by its General-Secretary, Asiedu-Nketia and other regional executive members.
All attempts to reach Nana Acheampong via telephone yesterday proved futile as the many calls to his mobile phone were not answered.
By Wisdom Peter Awuku