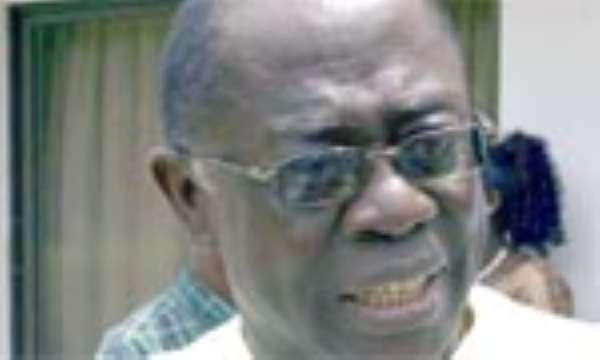 The Kojo Armah Committee, established barely six weeks ago to unravel the mystery surrounding the disappearance of 67 large cartons of cocaine from a heavily guarded police exhibit room at the Police Headquarters in Accra, yesterday submitted its interim report to the Interior Minister, Hon. Kwamena Bartels.
Before the report was submitted, Mr. David Asante-Apeatu, ex-director of CID and currently the Director of Specialized Crime and Analysis, INTERPOL, answered several questions posed by members of the committee.
Asante-Apeatu, who flew into the country on Friday at the request of the committee, was the last person to answer questions from panelists.
Not only was he the CID boss when the missing cocaine was brought to the headquarters after it was seized in Prampram; he also reportedly established the exhibit room in which the exhibits were kept before they got missing.
Before him, many prominent personalities in the Police Service including Chief Superintendent Alphonse Adu-Amankwa, head of the Organized Crime Unit of the Police Service, and Deputy Commissioner Patrick Kwabena Ampewuah, who took over from Asante-Apeatu as CID director, were also grilled.
It would be recalled that Hon. Bartels on 1st February this year, put in place the committee to investigate the disappearance of narcotic drugs supposed to be in police grips.
The 67 cartons of cocaine, whose disappearance prompted the formation of the committee, was seized on May 21, 2006 by the Prampram District Police Command, then under DSP Ofosu-Hene, after a Benz bus being driven by a Nigerian was intercepted.
Even though the content of the Interim Report is not known, observers believe the committee had made headway in its bid to establish those behind the loss, and made recommendations.
For now, two people, a senior police officer and a civilian, are
being detained in connection with the missing cocaine.
They are Deputy Superintendent of Police (DSP) Patrick Akagbo of the Violent Crime Unit of the Criminal Investigations Department (CID) of the Police Service, who was supposedly in charge of the exhibit store, and one Frimpong, the civilian.
While the committee was neck-deep in its work, it also came to light that some $10,000 cash seized as exhibit at Prampram on May 21, 2006 along with the 67 cartons of cocaine could also not be traced.
Another startling revelation was that another large carton containing 30 slabs of cocaine was also swapped from the same exhibit store.
By Bennett Akuaku