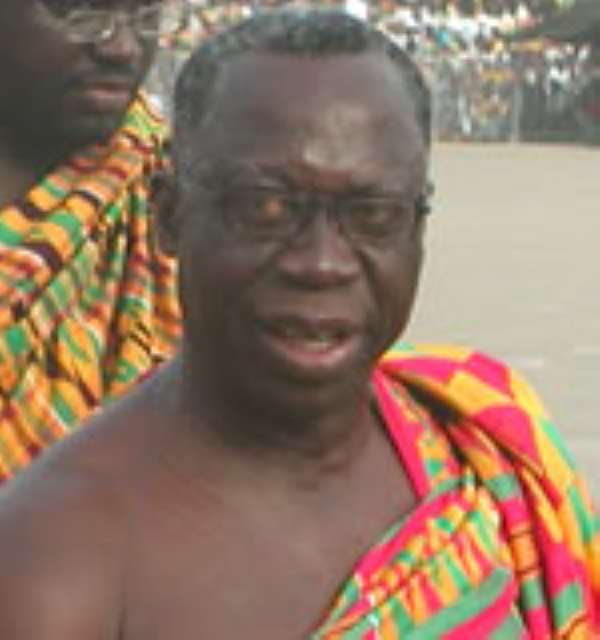 The Member of Parliament (MP) for Akim Oda and former Finance Minister, Yaw Osafo-Maafo has called on developing countries to consider charging "transfer fees" for their health personnel who seek greener pastures abroad after years of enormous investment in them by their countries.
This, he indicated, would help such countries mobilise additional funds to support the training and development of their health sector.
The former minister, who has indicated his intention not to contest the forthcoming parliamentary elections in order to commit himself fully to Nana Akufo-Addo's presidential campaign in the December 2008 elections, made this known in an address during the first-ever Global Forum on Human Resources for Health held in Kampala, Uganda.

It was organised by the Results for Development Institute, under the theme "Financing - A Key to Scaling up the Health Workforce and Health Systems".
"We must encourage the receiving countries to consider remuneration or compensation for the countries of origin that trained the health workers so that they could have the resources to train more.
"As I thought through this particular point, I was wondering if it was not possible to export our health personnel so that we can turn the problem of brain-drain to brain gain. Like footballers, is it not possible to charge 'transfer fees' for our health personnel who are poached by the developed world? The monies that accrue could be diverted into training more personnel," he stated.
Hon Osafo-Maafo noted that the wealth and development of a nation depended heavily on the health of her people, and that improving health should be seen as an important social objective, which has direct benefits in terms of longer and better lives for millions.
The debilitating effects of disease serve as a barrier to economic growth and therefore must be confronted headlong through concerted development efforts of all.

He indicated that investment in the health of every society is a necessary prerequisite for economic growth and poverty reduction.
Making reference to a cross-country regressions for the 1965-90 period by Gallup and Sachs (2001), Osafo-Maafo revealed that poor countries like Ghana with serious disease conditions such as malaria grew 1.3 percent less per person per year, noting further that findings by the Ghana National Commission on Macroeconomics and Health indicates that the high prevalence of malaria alone costs Africa about one percent annually in lost economic growth.
The Akim Oda MP stressed that the negative effects that a dysfunctional health system and workforce had on the world economy should spur governments, donor nations, the private sector and all stakeholders to see investment in health merit a special place in any future development path to achieve accelerated economic growth and poverty reduction.
He expressed concern about the critical shortage of health workforce hitting particularly African countries and cautioned that if the situation is not addressed promptly there is no way the Millennium Development Goals (MDGs) and the vision of the World Health Organisation could be achieved.
"The human resource problem is also worsened by a high rate of internal and external attrition. The more serious threat, of course, being the external attrition."
"The State of the Ghanaian Economy report for 2002 (ISSER 2003) notes that 68.2 percent of Ghanaian medical officers, trained between 1993 and 2000, have left Ghana.
"The major beneficiaries include the US, UK, Germany and Canada. On the whole there seem to be more Ghanaian doctors working outside the country than in Ghana. Not only is Ghana losing medical doctors, but also nurses.
"The attrition of nurses has, however, reached alarming proportions during recent years. It is estimated that Ghana has lost 50 percent of its professional nurses to UK, US and Canada in the last 10 years," Osafo-Maafo emphasised.
On the way forward to dealing with the peculiar problems of health delivery and sustenance, the former Minister called for an unprecedented infusion of resources into the health sector.
He agreed with Bennet and Gibson's taxonomy on the funding of the health sector community-based health insurance, user fees (cash and carry), social insurance financing, and tax-based financing as a possible way of addressing the critical problems of the health sector.
He further called for a huge sustainable domestic resource injection through increase in the health budget, imposition of sin taxes on such commodities like tobacco and alcohol whose consumption poses a higher risk to the health of people, tax on activities that tend to pollute the environment considerably like mining activities, lumbering, tax on lotto winnings, and vehicle usage tax through stickers of the National Insurance Commission.
Osafo-Maafo noted that donor sources should also be explored through such systems like the common pool where contributions are pooled together for the development of health facilities.
"It is critical that donors commit to promoting long-term predictable financing, primarily through increasing the proportion of aid provided as budget support. The international community must live up to its promise to scale up development assistance and make it predictable and sustainable," he emphasized.