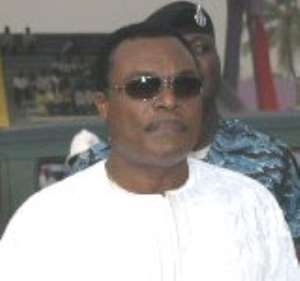 Following Government's creation of new administrative districts, the Ministry of Health will this year begin a review of its Capital Investment Plan to respond to its policy to provide a hospital in each district.

Such a district hospital would be sufficiently equipped to effectively handle patients referred to it by health centres and clinics in its catchment area.

Major Courage Quashigah, the Health Minister who announced this in Parliament on Friday, said also that Cabinet had directed the Ministry to harmonise and consolidate the over 13 different laws governing health delivery in the country.

"My Ministry is in consultation with the Ministry of Justice and Attorney General's Department and relevant stakeholders to compress the laws into seven bills," Major Quashigah said.

Major Quashigah, who was answering questions on the health sector, listed the bills as the Public Health, Health Service, Health Institutions, Mental Health, Medical Training and Research, Health Professionals and Regulatory Bodies and Traditional Bills.

Consultations with key stakeholders on the bills are expected to be concluded and forwarded to Cabinet by the end of the year.

Major Quashigah said the Health institutions and facilities bill seeks to establish regulatory bodies to license facilities for the provision of health care, control and regulate mortuary facilities as well as the operations of the Ambulance Service.

As for the health professionals and regulatory bodies' bill, it would regulate the practice of Doctors, Dentists, Pharmacists, Nurses, Midwives and allied health professionals.

According to the Minister, the Ministry had estimated the total cost of providing health infrastructure in the country at GHc1.26 billion.

He said: "In 2008, the total item 4 budget, including funding from Government of Ghana, the National Health Insurance Fund loans and internally generated funds is 106 million Ghana cedis.

"If the current trend continues, it will take about 12 years to implement this programme.

"The Ministry therefore has a programme to prioritise and mobilize extra resources for this programme. We are at the moment prioritising the completion of ongoing projects and the maintenance of existing infrastructure and equipment."

Major Quashigah announced that the Pantang Hospital, near Abokobi in Accra, was not only for mental patients but also ran out-patient services and called on the community at Adenta to patronize the services.

The MP for Adenta Mr Kwadjo Opare-Hammond had asked the Minister of Health what plans the Ministry had to site a clinic or hospital in the Adenta Constituency to cater for the over 100,00 constituents.

The Minister said the Adenta-Madina-Frafraha communities had been ear-marked for a hospital under a programme by the Ministry, but funding could not be accommodated in the 2008 budget.

He said the Ministry was consulting some financial institutions for funding.

Major Quashigah appealed to Members of the law-making House to join hands with the Ministry and local communities to de-stigmatise mental health patients.
Source: GNA