March 4, 2008
|
General News
More Power From Osagyefo Barge Soon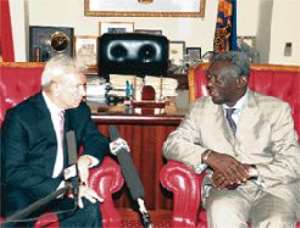 The Osagyefo Barge at Effasu expected to generate 125 megawatts of power to supplement the national power grid is scheduled to come on stream soon, the President of Balkan Energy Company (BEC), Mr Philip David Elders, has announced.
At a courtesy call on President J.A. Kufuor at the Castle, Osu, yesterday, Mr Elders did not indicate the specific time the barge would become operational but said two major generators of the barge would be started in a few weeks' time.

Under an agreement signed between the Balkan Energy Company of the United States of America (USA) and the Ghana government in July 2007, the company obligated itself to equip, refurbish and commission the barge and associated facilities within 90 days at a cost of $40 million.

The agreement was part of the policy options pursued by the Ghana government to ameliorate the power shortages experienced by the country last year as a result of drastic reduction of the water level of the Akosombo Dam, the country's main energy source.

The barge was purchased by the Ghana government in 1999 and was conveyed to the country in 2002.

Mr Elders said the company began working on the barge some six months ago and gave the assurance that in spite of the initial teething challenges, two major generators of the barge would be started in a few weeks' time.

The capacity of the barge is expected to be increased from 125 to 185 megawatts under the second phase of the project and eventually to 600 megawatts in the long term.

President Kufuor said he was delighted to receive such a good news.
Also at the Castle to pay a courtesy call was a delegation from the Bill and Melinda Gates Foundation.

The delegation, led by Dr Tachi Yamada, President of the Global Health Programmes of the Bill and Melinda Gates Foundation, said it was on a visit to Ghana to acquaint itself with health activities in which the foundation was involved.

President Kufuor expressed appreciation to the foundation for its activities, especially in the areas of guinea worm and malarial control, and drew the attention of the delegation to the School Feeding Programme, saying that any contribution in that direction would also be welcomed.

Story by Nehemia Owusu Achiaw