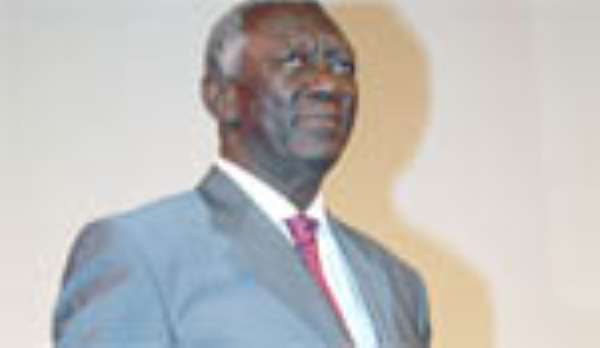 PRESIDENT JOHN Agyekum Kufuor has warned those fighting over the siting of district capitals to desist from that attitude, as it was counter-productive.
Currently new districts have been created in addition to the existing ones but there are reports that the siting of the capitals of five of the new districts has sparked a lot of confusion. The districts, which have recorded such incidents include Nkonya, Ayirebi, Ofonsu, Adenta and Ashiaman.
The new districts were inaugurated last Thursday, February 28, 2008 and the President who was addressing a gathering at Techiman in Brong Ahafo on Wednesday, a day before the inauguration, said the creation of the new districts, instead of being a welcoming news to beneficiary communities, have rather sparked strife; he therefore advised such communities to smoke the peace pipe in the interest of development.
The occasion was the commissioning of the Ghana Nuts Limited (GNL). The company, established in 2001, uses state-of-the-art facility to process soya bean, cowpea, sheanut and groundnuts into oil.
The gathering attracted traditional leaders, politicians, and religious leaders.
"Development can not take place in an atmosphere of violence and chaos," the President said, urging members of the troubled communities to cooperate with the security agencies and other stakeholders for peace to prevail.
He said it is unfortunate that the siting of new district capitals is also creating animosity among people for whose benefit the new districts were created.
President Kufuor explained that the rationale for the creation of the new districts is to improve administration, deepen democracy and good governance.
The new districts, he indicated, are also to make room for the equitable distribution of the national cake.
"I therefore wish to appeal to 'Nananom' (traditional leaders) and all concerned to accept the decision already taken by government and cooperate for the rapid development of the districts."
He used the occasion to encourage Ghanaians to believe in the future prosperity of the nation. "We have the human, material and natural resources to make this country great."
To achieve this, he asked the citizenry to be determined to work harder than they are doing.
By Emelia Ennin