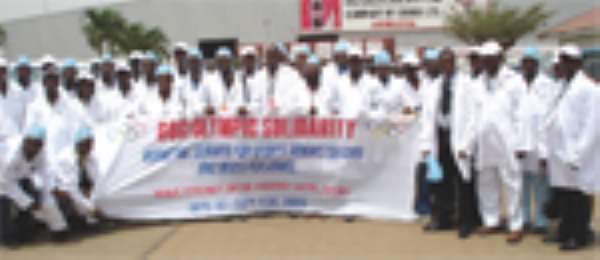 A TWO-DAY seminar on marketing and sponsorship for sports administrators and selected media personnel ended last Thursday in Accra.
The programme which was funded by International Olympic Committee (GOC) was organized by the Ghana Olympic Committee (GOC) under the auspices of the Olympics Solidarity Fund, and attended by B.T. Baba, President of the GOC, Dr. Emmanuel Owusu Ansah, Director of Sports at the Ministry of Education, Science and Sports and Kweku Rockson, Acting Director of the Ghana Institute of Journalism (GIJ).
Mr. Rockson, who was among the resource persons, praised sports personalities for their contribution towards the development and promotion of various sporting disciplines under the National Sports Council (NSC).
According to B.T. Baba , new avenues should be created by sports authorities to support all the 35 sports disciplines under the umbrella of the NSC as well as the development and promotion of sports in the second cycle and tertiary institutions.
He tasked personnel of both the GOC and NSC to be more business oriented to enhance the quality of their responsibility.
"Plans are underway for Ghana to bid for the right to host the 2015 All Africa Games, and every effort should be made to properly maintain the various newly constructed stadia for future international events".
He expressed the hope that the four stadia would be handed over to the NSC for their maintenance as the institution had been very efficient in keeping the venues clean, and managing it to the satisfaction of the people of Ghana.
Participants who ended the seminar with a visit trip to the office of the Olympic partner, Coca Cola Company Ghana Limited, which had since September 1995 been transferred to the Spintex Road, were briefed about the activities and the operations of the company in terms of producing drinks such as Fanta, Fanta Lemon, Fanta Cocktail, Sprite, Mineral water and Coca Cola.
According to Isaac Cudjoe, Public Affairs and Communications Manager of Coca Cola, the company could produce about 100,000 crates daily if all the 25 lines inside the factory are set.
Briefing participants on the company, he described Coca Cola as a magic system because nobody knows the formula it uses.