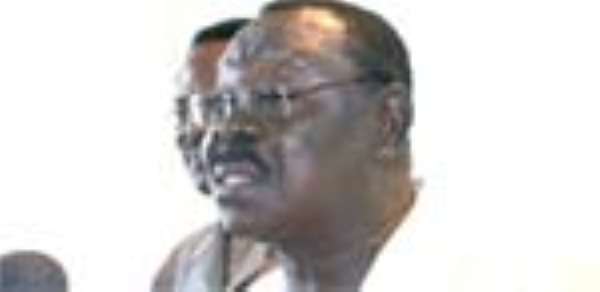 THE WEIJA Municipal Assembly which was to be inaugurated on Friday, February 29, had its name changed at the last minute to Ga South District Assembly following a protest which came from members of the Gbawe Kwatei family.
In all, 20 District Chief Executives were sworn into office.
The District Chief Executive of Ga West Assembly, Hon. Eric Busby Quartey-Papafio, who was speaking at the inauguration, noted that this positive development should provide a great impetus for the realization of the overall objective of improving the living conditions of the people in the communities.
He mentioned that a lot of work had been undertaken in terms of office and residential accommodation to ensure a smooth take-off of the assembly, and that a number of movable items including vehicles and computers have been organized to assist the new assembly to begin on good footing.
Hon. Papafio revealed that with a population of 531,810 as at 2007 spreading over 1,043 communities and 9 area councils, Ga West District was increasingly becoming difficult to manage.
He said the newly created assembly will ensure effective administration, and added that so far 105 projects have been implemented.
The Greater Accra regional minister, Hon. I.C. Quaye, said the central government is consciously putting measures in place to enhance performance standards of assemblies, by instituting the District Development Fund.
According to him, the Ministry of Local Government, Rural Development and Environment (MLGRDE) was administering the Functional Organizational Assembly Tool (FOAT) which seeks to assess performance of assemblies on some key aspects of administration and capacity-building.
Hon. Quaye said all this transformation will require a new type of assemblyman; a person who comprehends issues and can give effective leadership and direction to the staff of the government service at the district level.
He further noted that creation of the assembly is expected to challenge the people to create competitive and efficient machineries for public service delivery.
He therefore charged the newly created district to challenge itself to develop the appropriate infrastructure and level of service required by the people, and become the hub of economic activities by providing an enabling environment for business.
Dorcas Larbi