March 2, 2008
|
General News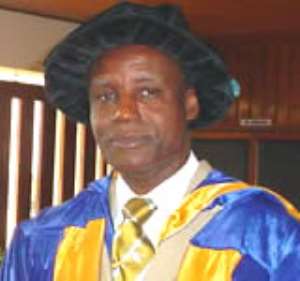 A large number of mourners from all walks of life including President John Agyekum Kufuor on Friday, February 29, 2008, attended the burial of Professor Kwesi Akwansah Andam.
He was the immediate past Vice Chancellor of the Kwame Nkrumah University of Science and Technology (KNUST).
The late Prof. Andam was buried in his home village of Ekumfi Atakwaa in the Central Region.

Also among the mourners were Prof John Evans Atta Mills, presidential candidate of the National Democratic Congress (NDC), Dr Paa Kwesi Nduom, flag bearer of the Convention People's Party, Most Reverend Peter Cardinal Appiah Turkson, Archbishop of Cape Coast, Bishop Robert Aboagye Mensah of the Methodist Church of Ghana and Maulvi Wahab Adam, Ameer and the Missionary of Ahmadiyya Muslim Mission.

In his tribute, President Kufuor described Prof Andam as a devoted citizen who showed great love for his country.

He said he never regretted making the late Prof. Andam the Vice Chancellor of the KNUST because he brought great transformation into the University during his tenure.

In a sermon, Bishop Aboagye Mensah said Prof Andam experienced God's love and was prepared to share it with others.

He said the late Professor never forgot to praise and adore God.

Prof Andam who held the post of Vice Chancellor from 2002 to 2006, died at the 37 Military Hospital on December 14 2007, after a short illness.

He was born at Ekumfi Atakwaa on December 15 1946 and attended Ghana Secondary Technical School at Takoradi and later Kwame Nkrumah University of Science and Technology where he read civil engineering.

He obtained his PhD in Structural Engineering Computer Aided Design (CAD) Division at the University of Newcastle, Upon Tyne in the United Kingdom.

Prof Andam took up appointment as a lecturer with KNUST and was promoted a senior lecturer in 1985, an associate professor in 1992 and a full professor in 1997.

He was a prolific writer who had over 100 science books and papers to his credit.

Prof Andam held many positions in and outside the country and was the seventh Vice Chancellor of KNUST.

He left behind a wife, Prof Araba Bentil Andam and four children.