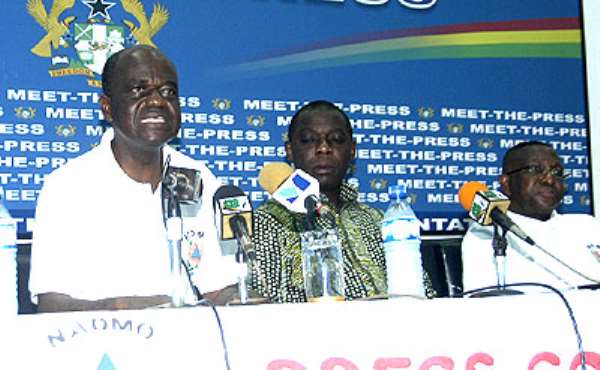 DCOP (Rtd) Douglas Akrofi Asiedu, Acting Coordinator of the  NADMO addressing the media     The Minister for the Interior, Hon Kwamena Bartels has launched activities to commemorate World Civil Defence Day with a call on governments, public and private institutions to ensure that they create safe and secured environment for their citizens and employees.
He said the International Labour Organisation (ILO) Law on safety at workplaces makes it mandatory for all employers to protect workers against work-related sicknesses, diseases and injuries.
Hon Bartels' speech was read on his behalf by DCOP (Rtd) Douglas Akrofi Asiedu, Acting Coordinator of the National Disaster Management Organisation (NADMO) in Accra to commemorate this year's activities which falls on March 1, 2008.
He said experience have been showed that morale, productivity and standards go high in securing and safeguarding the working environment.
Speaking on the theme: 'Civil Defence and Basic First Aid Techniques' he said the objective of the celebration was to encourage Member States to establish aid implement nationwide educational programmes on basic first aid techniques.
The Minister said due to lack of life-saving skills among the people who especially happened to be at accident scenes to save lives rather worsen the condition of victims.
Mr Bartels pointed out that first aid was an integral part of disaster management, and its timely and proper application could save lives in events of disasters.
He, therefore, called on government agencies and private organisations to inculcate the culture of life-saving awareness in their staff by equipping them with basic first aid knowledge.
The Secretary General of the International Civil Defence Organisation (ICDO), Nawaf Al-Sleibi, stressed the need for public authorities to implement procedures that will ensure that basic first aid training was made available and accessible to everyone to know what to do in an event of an emergency.