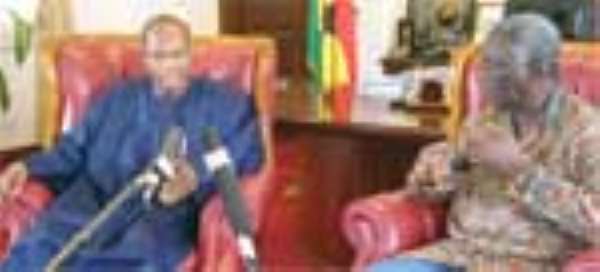 Stringent measures are being put in place to end the activities of terrorists, human traffickers and dealers in small arms on the African continent.
To this end, the Economic Community of West African States (ECOWAS) and the United Nations (UN) are working together in order to win the fight.
Dr. Mohammed Ibn Chambas, President of the ECOWAS Commission disclosed this yesterday when he, in the company of the UN Special Representative for West Africa, Lamine Cisse and other officials, called on President John Agyekum Kufuor at the Castle, Osu.
The visit was to seek President Kufuor's advice on how members of the continent could work together to solve the problem.
Mali, Niger, Chad and Mauritania are among countries which have recorded the highest operations of the perpetrators of such criminal activities.
Dr. Chambas mentioned the recent killings of four French citizens in Mauritania, and added that a lot of human and drug trafficking as well as rebel activities were ongoing on the continent.
"The issue is getting to a point that needs a regional approach," he said.
As a way of curbing the menace, he suggested consultations among affected countries "and perhaps in collaboration with some regional players who are not directly involved".
He was grateful that some international communities like the UN as well as bilateral and multilateral partners of the continent have expressed the desire to assist Africa search for a solution to the problem.
"What is left is the way forward."
Before holding a closed door meeting with the visitors, President Kufuor noted that the efforts by the UN was significant enough to show that it acknowledges that the continent, which is an emerging one, is plagued by great challenges.
He commended the UN for its involvement, and said Africa lacks resources to confront the nagging challenge.
"The challenge is broader and it will require the involvement of the entire continent to do a better diagnosis."
Individual nations, the President said, given their limited resources, would not be able to contain the problem better, and praised the ECOWAS-UN initiative.
He advised that all African nations should agree and ensure that rebels, terrorists or traffickers are not allowed to have easy access to their countries.
Of late, terrorists, human traffickers, drug barons and small arms traffickers have used most African countries as transit points while a lot of rebel activities have also been recorded in some countries on the continent.
By Emelia Ennin