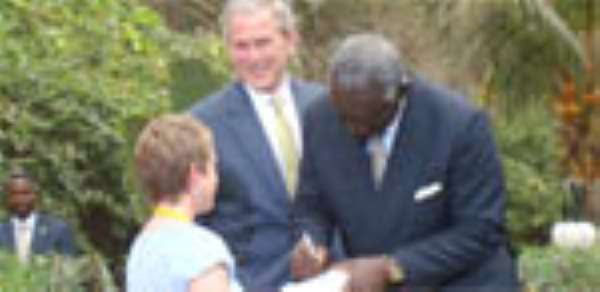 The visiting United States President, George Walker Bush, has described the claims that his government was hatching a plot to establish a military base in Ghana or Africa as "baloney; as we say in Texas that's bull."
He has therefore called on Ghanaians and Africans to discard the falsehood being peddled around and accept his friendship for economic emancipation of the continent.
President Bush made the remarks in a joint press conference with his host, President John Agyekum Kufuor, at the Castle yesterday where they took questions from both local and foreign journalists.

According to him, if America had any military intention for Africa then it is to support her nations to deal with conflicts such as Darfur and Somalia, amongst other trouble spots.
"America does not intend to have a military base in Africa. It is simply not true," the US president emphasized, and expressed the hope that the statement he made would end the speculations and afford Africans and Americans the opportunity for mutual respect.
Critics have damned the visit of the US President, accusing him of shopping for a place to host the African Command (Africom) on the continent. Only Liberia has so far indicated its willingness to host Africom.
But President Bush explained that Africom was to provide African states with military training and assistance in order to handle Africa's problems better.
"It is a command structure that is aiming to help provide military assistance to African nations so African nations are more capable of dealing with Africa's conflicts - like peacekeeping training," he said.
He announced a $17 million support for Ghana to help in the fight against malaria throughout the country.
Mr. Bush, who categorically noted that the support would come from American Tax payers, was hopeful that it could help save lives.
"We are working with you to save lives and bring hope to families," he said.
The American leader, who looked refreshed after a hectic tour of three countries before arriving in Ghana, interspersed both his statements and answers to questions with a lot of humour.
The two leaders answered questions from four journalists, two Ghanaians and two foreigners.
President Kufuor welcomed the fund to support Africa and Ghana and noted that his government was committed to the fight to eradicate curable diseases and HIV/AIDS with its scarce budget.

Earlier, an official welcoming ceremony was held at the Christianborg Castle for President Bush and his entourage who arrived in Accra on Tuesday evening for the three-day visit.
He is accompanied on the trip by his wife Laura, Secretary of State Condoleezza Rice and senior staffers.
The two presidents later retired to the Credentials Hall for bilateral discussions after inspecting a guard of honour mounted by personnel from the Ghana Air Force.
After the national anthems of the two countries had been played and a 21-gun salute fired by the US naval ship that was positioned behind the Castle, President Kufuor introduced the Ghanaian officials who would engage their US counterparts during the bilateral talks with President Bush.
Before the bilateral talks which were held behind closed doors, President Kufuor noted that Mr. Bush had, since assumption of office, shown particular interest in the affairs of Africa.
Highlighting some of the benefits that Ghana in particular and Africa as a whole had received from America, he mentioned the Millennium Challenge Account (MCA), support for fighting HIV/AIDS, as well as other trade-related initiatives.
President Bush told journalists at the Castle Garden that his five-nation tour of Africa was simply to announce a $350 million support for the eradication of what he termed "neglected tropical diseases" on the continent.
The initiative, which aims to help more than 300 million people in Africa and some Asian and Latin American countries, is targeted at the eradication of seven major diseases including elephantiasis, snail fever, eye infections, river blindness, hookworm, roundworm and whipworm.
The two leaders later signed on the cast of a U.S. Reuters' reporter, Debora Charles, who broke her left hand during the trip.
Present were the Minister for Foreign Affairs, Akwasi Osei-Adjei; Minister for Trade and Industry, Joe Baidoo Ansah; Minister for Tourism and Diasporan Relations, Stephen Asamoah-Boateng as well as Minister of Information and National Orientation, Oboshie Sai-Cofie.
Others were the Chief of Staff and Minister of Presidential Affairs, Kwadwo Okyere Mpianim; the President's Chief Advisor, Mary Chinery-Hesse; Chairman of the Millennium Challenge Account, Edward Boateng and Chief Executive of the Millennium Development Authority (MiDA), Martin Eson-Benjamin.
From the Castle, Mr Bush proceeded to the official residence of the US Ambassador to Ghana, Pamela Bridgewater.
Mr Bush visited the Ghana International Trade Fair Centre at La to meet some of the exporters operating under the African Growth and Opportunities Act (AGOA), learn more about the West Africa Trade Hub under USAID and interact with traditional leaders.
He was expected to visit the Ghana International School where he was to play a game of Baseball with the students.
Mrs. Laura Bush, accompanied by the First Lady, Mrs Theresa Kufuor, visited the Mallam D/A 1 and 2 Primary School in the Ga West District in Accra, the Maamobi Polyclinic and Maamobi Nutrition Rehabilitation Centre where she participated in a cooking demonstration and a Malaria Bednet Retreatment demonstration.
Ghana is the fourth leg of the tour of the US First Family, having already visited Benin, Tanzania and Rwanda. They will leave for Liberia today to round off the five-nation tour.
By Wisdom P. Awuku & Emelia Ennin