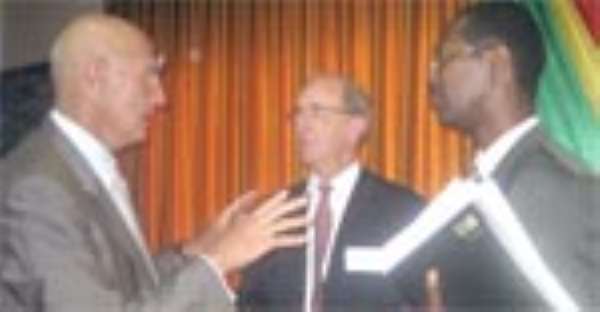 Government over the past few years has done tremendously well by providing stable conditions to attract foreign direct investments (FDIs) into the mining sector.
As a result of this effort, gold production of 2.24 million ounces in 2006 was 11 percent higher than the 2005 figure. The increase in gold output during this period was attributed to the on-stream of two new mines namely Newmont's Ahafo Mine and Chirano Mine.
So far, revenues from gold exports rose by 46 percent to £1,327.
Government is also taking a leadership role with initiatives such as the Extractive Industries Transparency to ensure that revenues received from mining companies were known not only to all Ghanaian citizens, but also how the money was spent at the local level.
It is ironic that Africa, with its vast mineral resources, remains one of the poorest continents in the world.
In a bid to reverse the trend, most African countries such as Ghana are pressing for more revenues from their minerals.
Recognizing that poverty is not a matter of a harsh reality, the International Council on Minerals & Metals' (ICMM) in collaboration with the Government of Ghana and the Ghana Chamber of Mines yesterday held a multi-stakeholder workshop in Accra.
The event brought together different groups such as community–based organizations, parliamentarians, and mining companies among others. Participants were expected to use the event to deliberate on how foreign direct investments from mining contributes to poverty alleviation in Ghana.
ICMM was expected to use the workshop to obtain feedback from participants on which goals they saw as priorities for Ghana.

Opening the workshop, the Minister of Lands, Forestry and Mines, Esther Dappah asked mining companies and stakeholders in the mining industry to work together to identify priority actions that would enhance mining's contribution to the mining communities.
"The government would like to see the donor community, the companies, district assemblies and community based organizations working more closely so that these benefits that we enjoy in Ghana are similarly used by those in our mining districts to raise the living standards of our people," Mrs Dappah said.
The minister added: "Our new efforts on fiscal decentralization are important in this context and may be used to benefit mining districts."
Present at the workshop were Paul Mitchell, President of ICMM; Alan Roe from Oxford Policy Management in the United States; Ben Aryee, Chief Executive Officer of Minerals Commission; and Joyce Aryee, CEO of Ghana Chamber of Mines.
By Felix Dela Klutse