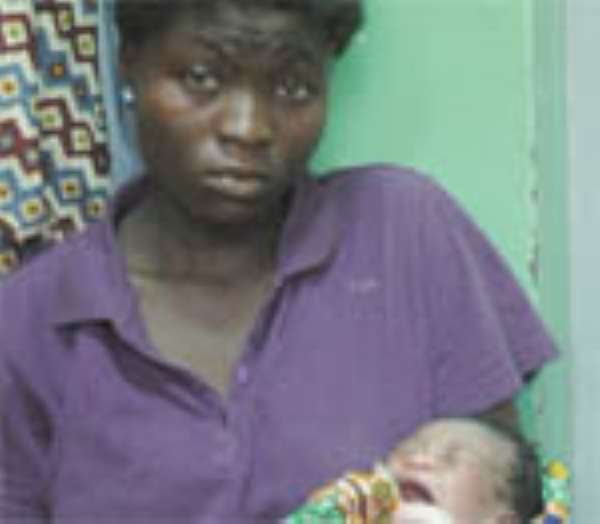 THE MAYOR of Accra, Stanley Nii Adjiri Blankson last Friday donated GH¢500 to 'Little Adjiri', the baby boy who was named after him by a teenage mother who delivered the child at The Pedestrian Shopping Mall near Odowna in Accra recently.
Presenting the cash donation at a short ceremony at the Ridge Hospital, the AMA boss was grateful to the Lord for the life of the baby, expressing his appreciation also to the traders who helped to take the teenage mother and her baby to the hospital.
"I am here to assist the mother and baby because the DAILY GUIDE made an appeal for financial support," he said.
He directed that part of the money should be used to pay the hospital bills and the remaining for the up-keep and transportation of the teenage mother and her baby to Sefwi-Bekwai, saying that since he had become the godfather of the child, he was ready to offer any support to them.
The Mayor also used the occasion to advise young girls who come to the city with the aim of looking for non-existing jobs to desist from doing so.
Eunice, the teenage mother, thanked the Mayor for his benevolence towards them. "I am lost for words; all I want to say is thank you," she said.
Madam Felicia Ofoo, one of the traders who sent Eunice to the hospital, thanked the Mayor on behalf of her other colleagues for the love he had shown.
The ceremony was witnessed by the hospital's Administrator, Mr. Kwame Opong; Madam Irene Sackey, a nurse manager and some nurses from the labour ward of the hospital.
It would be recalled that the teenager, Eunice Morgan last Tuesday delivered a bouncy baby boy at The Pedestrian Shopping Mall and named him after the Mayor.
By Mabel Abotsivia