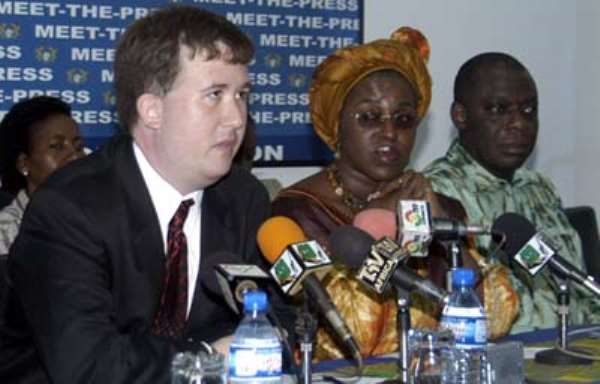 Hon Minister for Information and National Orientation, Mrs Oboshie Sai Cofie (middle), Hon Frank Agyekum, Deputy Minister, MINO (right) and Mr Christopher Hodges(left), Public Relations Officer, US Embassy, Accra


The Ministry of Information and National Orientation and the US Embassy in Accra, this afternoon jointly briefed the media at the Ministry's Conference Hall to outline President George W. Bush and Mrs Laura Bush's schedules while in Ghana.
Mr. Christopher Hodges, Public Relations Officer at the U.S Embassy, told the media that President Bush with his wife would arrive in Accra on Tuesday, February 19, 2008 to begin his two-day official visit, which ends on February, 21. He said about 80 international journalists would accompany the President.
While in the country, President Bush would hold bilateral talks with President John Agyekum Kufuor at the Castle, Osu in Accra, on Wednesday, February, 20, 2008. Later in the day, the visiting President would inspect a Guard of Honour to be mounted in his honour and also participate in other activities including a press conference.
President Bush would later pay a courtesy call at the U.S. Embassy in Accra and have an interaction with the Ghana Peace Corps volunteers. George Bush would also visit the Ghana Trade Fair Centre to meet some trade partner beneficiaries as well as meet some traditional rulers.
He will also witness a baseball exhibition game by Ghana International School (GIS) and would use the occasion to donate some baseball equipment to the school. There would also be a state dinner later in the evening at the Banquet Hall in Accra.
Meanwhile Mrs. Laura Bush would also seize the opportunity to visit some polyclinics in the capital city to spearhead President Bush's anti-malaria campaign, among other activities.
President Bush would then depart Ghana and continue his African tour to Liberia on Thursday, February 21, 2008.
Hon Minister for Information and National Orientation Mrs Oboshie Sai Cofie chaired the function