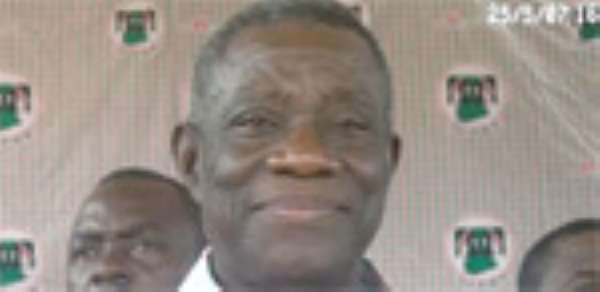 The National Democratic Congress (NDC) is rolling out a red carpet reception for its presidential candidate, Prof. John Evans Atta Mills who is expected to arrive from South Africa tomorrow.
Though a section of the media had speculated that the former vice president had secretly sneaked into town, deep throat sources say he would actually touch down at the Kotoka International Airport aboard a South African Airways at 3:00pm tomorrow.
The much emaciated Prof, whose three-week exit from the country generated a lot of controversy in political circles with speculations that he was undergoing medical treatment, would be welcomed by a large crowd of NDC supporters who would be organized and bused from various parts of Accra to the airport.
The arrival lounge of the Kotoka International Airport is expected to be awashed with NDC colours and paraphernalia as the organized supporters embark on a fanfare and jamboree amidst merry making.
Since he left the country, Prof. Mills had been in a political coma and the NDC has planned to make an emphatic political statement out of his arrival tomorrow.
The party has therefore planned to bus as many people as possible to the airport and also made arrangements with some local radio stations to have a live broadcast of his arrival.
Reports say the NDC flagbearer would tomorrow seize the opportunity to showcase himself to Ghanaians that contrary to earlier reports pronouncing him dead on surgical table, he is alive.
The Atta Mills Campaign team had had a hectic time explaining to Ghanaians the exact reason for which their flagbearer was in South Africa.
The team had consistently denied reports of ill health but the popular belief that Prof Mills was out of the country due to his failing health was almost substantiated when a sitting NDC Member of Parliament told the media that the good old Prof was too ill to lead the party to victory, asking for a replacement.
One more time, the party had to hurriedly deny the report and call the said MP to a secret meeting after which he was said to have been reprimanded for his candid comments against his flagbearer.

The initial reason given for the South African trip was that it was a purely private visit. Then in a subtle tone it was later explained that Prof Mill was to undergo a normal medical check-up while in that country.
When news broke that the NDC candidate was in South Africa to raise funds to support his campaign for the December 7, 2008 general elections, his party then came out to explain that though Prof. Mills was meeting with the business community in South Africa, he was not doing that to raise funds but rather to establish business contacts that could be exploited to support the economy of Ghana should the NDC win the election. He was also said to have met with leaders of the ruling African National Congress Party.
By Halifax Ansah-Addo