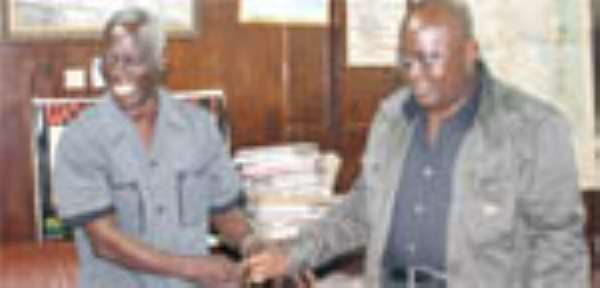 Nana Addo Dankwa Akufo-Addo, presidential candidate of the New Patriotic Party (NPP) yesterday met with the Chairman of the Electoral Commission (EC), Dr. Kwadwo Afari-Gyan.
The purpose of the visit was for Nana to introduce himself formally to the EC as the NPP's candidate for the 2008 election.
Nana Akufo-Addo also took the opportunity to ask for clarification on a number of issues such as the replacement of voter identity cards, and the opening of the voters' register for this year's election.
Dr. Afari-Gyan said the EC was determined to ensure that all political players have full confidence in the Commission, adding that with timely and adequate funding, the Commission would be able to meet all its deadlines, especially in relation to the replacement of voter ID cards and the registration of new voters.
His Deputy in charge of Administration, David Kanga also sat in at the meeting.
Nana Akufo-Addo was accompanied by Victor Newman, his Director of Research; Mustapha Hamid, Spokesperson; Nich Adi-Darko, in charge of Logistics; Anim Obiri, in charge of Operations; and Yaw Amfo-Kwakye, Personal Assistant.
Yesterday's visit formed part of Nana Akufo-Addo's strategic courtesy calls on various personalities and critical groups of people in preparation for the December elections.
In recent times, the NPP presidential candidate had met with various traditional leaders including the Asantehene, Otumfuo Osei Tutu II; the Ga Mantse, King Tackie Tawiah III and other chiefs.
He had also met with the National Chief Imam, Sheikh Osman Nuhu Sharabutu; Maulvi Wahab Adam, Ameer in charge of the Ahmadiyya Muslim Mission; numerous Zongo Chiefs and Islamic Leaders as well as the Christian Council of Ghana and a cross section of Christian leaders.
Nana had also met with key players in Ghana's entertainment industry including musicians, producers and film makers.
Last week, Nana Akufo-Addo paid the Togolese President, Faure Gnassingbe a snap visit at the Presidential Palace in Lome, Togo.
The visit was the beginning of a series of consultations that the NPP presidential candidate hoped to hold with other African leaders.