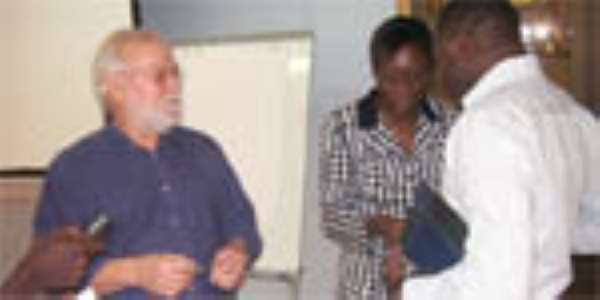 Newmont Ghana Limited has denied any racial comments by Ervin Key, a supervisor of the mining group during an alleged illegal strike action staged by a small group of junior staff in the mining department at Ahafo on December 17th last year.
At a press conference held yesterday to react to a number of issues brought against the company by the Ghana Mineworkers Union, Newmont Ghana said it had undertaken an extensive independent internal investigation with the conclusion that there was no basis for the allegations of the use of racial language.
Though the company did not release the investigative committee report, as all accusers were promised confidentiality, Adiki Ayitevie, Communications Manager of Newmont Ghana said the results would always be available to the mine union.
"Newmont Ghana's workforce is made up of over 20 nationalities with the vast majority of employees being Ghanaians. We make every effort to be culturally sensitive and any form of racial comment or discrimination is taken seriously," she added.
The Ghana Mineworkers Union over the weekend made statements on three separate issues including termination of the appointment of its Ahafo Local Union Chairman and coffee break system, a situation Newmont Ghana described as unfair.
The company however said it still has a good working relationship with the Ghana Mineworkers Union and would continue to deepen it.
On the issue of discrimination against pregnant workers by the company, Mrs. Ayitevie explained that her outfit does not discriminate against women employees who have become pregnant but are afforded maternity leave and return to normal work assignment.
"Two separate investigations were carried into the discrimination against pregnant workers and those interviewed stated that they had not been discriminated against, and that rather, they had been reassigned to lighter duties. As at the moment, the Ministry of Women and Children's Affairs is conducting an independent investigation," she explained.
With regard to the termination of appointment of the chairman of the local union, Kweku Shaibu, Mrs. Ayitevie reiterated that the company followed union-agreed procedures and human resources due process in terminating his appointment.
Mr. Shaibu was alleged to have incited his co-workers against management of the company, making them refuse to work due to the issue of resuming the 4.00 am coffee break.
According to Mrs. Ayitevie, as mandated by the Collective Bargaining Agreement, a disciplinary committee comprising union, management and human resources department representatives was set up and they concluded that Mr. Shaibu, by his action incited his co-workers to act contrary to their supervisor's instructions and work procedures.
Though his appointment should have been terminated, the committee recommended that Mr. Shaibu be issued with a final warning.
However, since he had already been issued a final written warning in his personnel file for another offense, his appointment was terminated.
Newmont said in the spirit of cooperation and transparency, it has agreed to further discussions on the matter which was agreed in a meeting with the Ghana Mineworkers Union yesterday.
By Charles Nixon Yeboah & Sarah Waldie