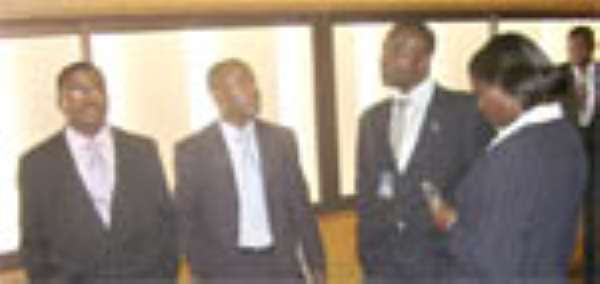 Figures released by the Bank of Ghana reveals that interest rates had remained slightly stable throughout last year.
According to the Monetary Policy Committee (MPC) of the Bank of Ghana report, interest rates on the auction market broadly declined through the third quarter of 2007, but firmed up in the fourth quarter.
In general, interest rates had declined along the yield curve, indicating a continued shift of the yield curve downwards in line with diminishing inflation expectations.
Importantly, the benchmark 91-day Treasury bill rate, which had remained virtually unchanged during the first three quarters of 2007, increased by 20 basis points to 9.8 percent in September and further by 80 basis points to 10.6 percent in December 2007.
Furthermore, the 182-day Treasury bill rate increased to 10.8 percent in December 2007 from 10.2 percent in September.
While the 2-year fixed note rate which shed some 70 basis points in the first quarter of 2007 to 12.8 percent remained unchanged to close December 2007 at 12.8 percent, the 3-year fixed rate declined by 90 basis points in September 2007 to 12.1 percent in December 2007.
However, the 5-year bond rates rose by 133 basis points to 15 percent in December 2007.
On the banking front, average base rate quotations were revised upwards by 29 basis points between September and December 2007, closing the year within the range of 18.0- 21.5 percent.
Average lending rates were also marginally revised upwards by some 9 basis points within the same period to close the year at 28.0 percent.
In spite of this, most analysts think there was the need to revise banks' base rates further down so as to make credit easily available to the private sector. Individuals would also be motivated to easily borrow from the banks if the interest rates are down.
Last Wednesday, the Federal Reserve of the U.S. cut interest rates for the second time in nine days as it tried to keep the economy from entering a recession.
The U.S. Central Bank lowered rates to 3 percent from 3.5 percent after a two-day meeting.
While the base rate of Ghana Commercial Bank (GCB) is pegged at 18.5 percent, the Merchant and Barclays have the same rates of 19.05 percent. The Agriculture Development Bank (ADB) has the smallest base rates of 18.0 percent.
By Charles Nixon Yeboah