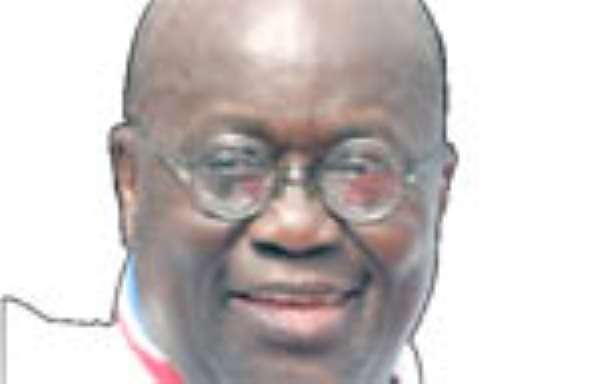 Ampem Chambers, solicitors for Nana Addo Dankwa Akufo-Addo, New Patriotic Party (NPP) presidential candidate for the December elections, have denied media reports that their client has been involved in the use and carriage of illicit drugs.
They have therefore cautioned media practitioners to take pains to cross-check their facts before publishing what they called 'scurrilous statements' about their client.
According to a press release dated February 1, 2008, there is no iota of truth in the assertion that the former Foreign Minister was once arrested in the United States of America for the possession of cocaine, let alone being a drug addict.
"We wish to state categorically that Nana Addo Dankwa Akufo-Addo has never, repeat, NEVER been arrested in the United States or in any country for possession of illicit drug. We also wish to state for the avoidance of suspicion that Nana Addo Dankwa does not use illicit drugs and therefore could not be addicted to same," the statement said.
Counting on the cooperation of all, the statement asked media practitioners to contact Nana Bediatuo Asante of Accra, should they need any clarification.
The release was in reaction to publications in two Accra-based tabloids yesterday that the NPP flagbearer was busted in the US for the possession of cocaine, but was released after he pleaded for leniency.
The story, captioned, 'AKUFO-ADDO BUSTED IN THE US', read inter alia: "Information reaching The Ghana Palaver from the United States of America (USA) says during one of Nana Akufo-Addo's travels as the Foreign Minister of Ghana, he was busted at the J.F. Kennedy Airport for being in possession of some amount of cocaine.
"When American Immigration and Customs officials questioned him, he pleaded with them for leniency and said the cocaine found on him was for personal use."
The paper alleged that the former Minister was allowed to go, first because American laws allowed the personal use of cocaine, and second because he possessed a diplomatic passport.
It alluded that the NPP candidate and his campaign team had failed to challenge allegations made against him by Mr. Kofi Wayo of the United Renaissance Party (URP) who conjectured that the ruling party could be heading for another congress to elect a new flagbearer.
But reacting, Nana Asante Bediatuo said the agenda was to derail the campaign of the politician who was cruising to victory in the December presidential election.
He said even though the option of going to court was there, he felt journalists would do themselves and their media houses a lot of good if they cross-checked their facts.
By Bennett Akuaku