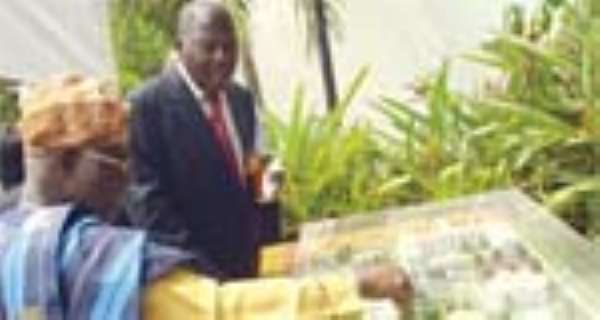 VICE PRESIDENT Alhaji Aliu Mahama yesterday cut the sod for work to commence on a $5-million dormitory block project for the Kwame Nkrumah Africa Labour College.
The Chinese-aided project would be managed by the Organisation of African Trade Union Unity (OATUU) and would house about 170 students when completed.
OATUU represents 25 million organized African workers of all trade union tendencies in the 54 African countries.
Before breaking the ground, the Vice President expressed optimism that the project, when completed, would help turn out products "who would not only strengthen the intellectual capacity of African Trade Union leaders but also make them appreciate the intricate issues of governance in developing economies such as ours".
He commended the China Federation of Trade Unions for the financial support for the project, and expressed his appreciation to the Workers Movement of Africa for naming the college after Ghana's first President who was one of the fighters for the liberation of Africa.
The OATUU Secretary-General, Hassan A. Sunmonu said the organisation had gone through changes since its inception in 1973 with some of its core members joining other bodies.
Comrade Sunmonu said it was through the friendly relationship between OATUU and the All China Federation of Trade Unions that the dormitory block was being constructed for the college, and commended the government of Ghana for the diplomatic, financial and moral support to the organisation since its establishment.
The Chinese Ambassador to Ghana, Yu Zhenhua noted that when completed, the hostel would mark another symbol of Sino-African friendship and cooperation, saying the OATUU had played important roles in providing coordination and guidance for the affiliated trade unions.
The Ambassador stressed the healthy relationship that exists between the OATUU and the All China Federation of Trade Unions, adding that the relationship stood as a model of yet another south-south cooperation.
He said the Chinese government was putting efforts in place to implement the "The 8 Measures" mapped out at the Beijing Summit of the Forum on China-Africa cooperation held last two years.
Ambassador Zhenhua said areas of cooperation between governments of China and Ghana had been widened and increased, promising more Chinese assistance to the country in areas of health and agriculture.By Emelia Ennin & Abubakar Salifu