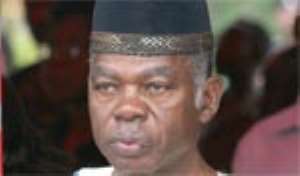 DR. EDWARD Mahama, the Presidential Candidate of the People's National Convention (PNC) has made public his aspiration to join the National Democratic Congress (NDC) to form what he described as a coalition government for Ghana.
He said once the two parties can come to an agreement on what things they would do for Ghana in the event that they come to power, he, Dr. Mahama would have no problems with the formation of a coalition government. His explanation for merging PNC, an Nkrumahist party, with the Rawlings-founded NDC was that there was a need for all Nkrumahist parties to unite and the NDC has a large number of those Nkrumahists.
"I have said that you can't talk about Nkrumahist and leave the NDC out. Parts of the Nkrumahists are in the NDC. A coalition of many parties coming together to say let's put Ghana first before the PNC, before Edward Mahama, is what we need," Dr. Mahama stated, and when asked if he had taken the proposal to the NDC he said he had not done that yet, explaining that: "We mooted the idea and those who are interested should come forward".
The PNC leader was speaking on an Accra-based private radio station on Monday. He said he was interested in delivering what his party believes would be the best solution to Ghana's problems and was not merely interested in becoming a running mate for any political party.
When asked about what happened to the much-reported unity talks between his party and the Convention People's Party (CPP), Dr. Mahama said as far as he was concerned the PNC had decided at its congress that the party was prepared to collaborate with the CPP, thus it was left with the CPP as a party to decide on what it wanted to do.
"I went to Dr. Nduom and said this is what my party has said and you know it. What did your party say? He said we would talk some more. I expected him to come and say at the Kumasi congress of the CPP 'this was what we agreed on'," Dr. Mahama indicated.
He said though he would not mind entering into similar agreement with the New Patriotic Party, a similar proposal in 2000 did not work out well.
Meanwhile, some leading members of the NDC have warmly welcomed the PNC's purported consideration to form an alliance with the NDC ahead of this year's general elections.
Recent reports indicate that the leadership of the PNC is considering forming an alliance with the NDC, having carefully assessed the party's ideologies, saying, they are similar to the Nkrumahist parties' principles and ideas.
Speaking to DAILY GUIDE at the Kokomlemle headquarters of the party in Accra yesterday, two national executive members, Mrs. Ama Benyiwa Doe, National Women's Organiser and Baba Jamal, a deputy General Secretary, said the NDC was ever ready to go into alliance with all interested opposition parties provided their principles and ideologies were acceptable to the NDC.
"In as far as the common goal of any political party is to win political power, it will be wrong on our part to shut our doors to parties that express interest in joining us to unseat the ruling New Patriotic Party (NPP). Remember that in politics, numbers matter a lot," Baba Jamal asserted.
He said the NDC's social democratic principles remain unchanged, stressing; "We strongly believe that our social democratic philosophy will work the magic to attract other opposition parties into our fold, apart from the PNC."
The party's deputy chief scribe answered in the affirmative when asked whether the NDC had succeeded in winning back some leading members and supporters of the National Reform Party (NRP), a party formed out of the NDC prior to the 2000 elections, which subsequently resulted in the latter's defeat.
He said the party would not relent in its efforts to win more people into its fold, saying, every single individual belonging to a political party was crucial in winning an election.
Mr. Jamal's views were not different from those expressed by Mrs. Ama Benyiwa Doe when contacted at her office.
According to her the party would continue to work to attract more members by preaching its social democratic messages. "We will not at all relax on our oars to ensure that NDC becomes more appealing to the electorate, especially floating voters."
She said the party had also started training more people to serve as polling station agents who are committed enough to ensure that, "the December general election is not rigged as happened in the last elections".
On the party flagbearer's health status which recently made newspaper headlines, she said; "The move by these pro-NPP newspapers to make mockery of Prof. Mills' health condition is a deliberate attempt to divert people's attention from criticizing the policies of this non-performing NPP Government.
"Majority of Ghanaians can attest to the fact that Prof. Mills is a credible, distinguished, tried and tested former vice president of this country who bears a very impressive CV that qualifies him as the next president of Ghana. Falling ill and treated does not mean he can't contest the elections. They should leave Prof. Mills alone and rather talk about Akufo-Addo's alleged drug addiction."
The NDC guru continued that; "It is a proven fact that his own people used his drug addiction to campaign against him."
She called on members and supporters of the party to disabuse their minds of the publications, adding, NDC will work towards regaining political power.
By Halifax Ansah-Addo & Grace Eyram Dartey