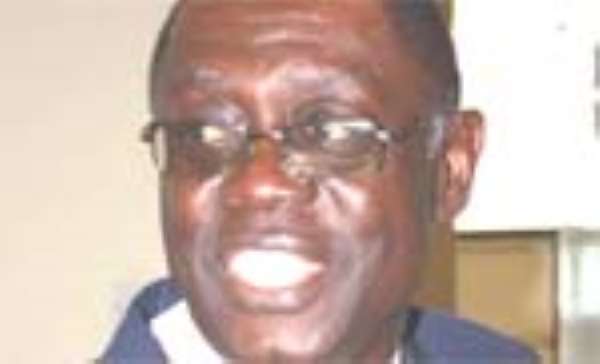 THE MINISTER of the Interior, Kwamena Bartels has warned security personnel, especially the police, who dabble in drugs and drug-related matters that government will deal with them mercilessly when caught.
He said not only would departmental punitive measures such as dismissal or demotion be taken against such personnel, but also, those found culpable would be put before the law courts for prosecution.
"I must stress that the Government of Ghana, as policy, has declared a total war on drug trafficking with the active collaboration of our development partners," he stated.
Hon. Bartels, who was answering questions on the floor of Parliament yesterday, said: "In order to ensure that the personnel of the Narcotics Unit of the Police are less attracted to the financial inducements from drug barons, a special financial package is being worked out for the personnel and other agencies that handle drug issues."
Other measures were the institution of a special award for personnel who actively helped to arrest drug dealers and a house-cleaning exercise to rid the Service of bad nuts who allegedly assisted drug dealers.
"The Service has also instituted comprehensive background check and vetting processes to ensure that individuals who are recruited into the Service are not of questionable character," he stated.
The Minister, who also is the Member of Parliament for Ablekuma North, said the far-reaching measures included various local and international workshops to enhance the capabilities of police personnel to fight drug trafficking.
"In the area of maritime drug trafficking, the World Customs Organisation and the United Nations Office on Drugs and Crime are collaborating to assist Ghana to implement the Global Container Control Project at the Main Harbour in Ghana to undertake container profiling.
"In this direction, officers from the Narcotics Control Board, Customs Excise and Preventive Service, the Ghana Police Service and other agencies are currently undergoing training for the commencement of the project.
"In order to face up to the current challenge, the Narcotics Control Board has started a recruitment process to beef-up manpower to deal with the situation. There is support from government to also resource the organisation and its collaborating agencies to deal with the current trend in respect of drug trafficking," he stated.
The Board, the Minister said, was undertaking an air interdiction course called Operation Westbridge, with the support of the British authorities.
"The project, which started in November 2006, has made an impact as drug trafficking through the Kotoka International Airport has reduced considerably, looking at the available statistics."
The Minister assured personnel of the Ghana National Fire Service that government had plans of helping them to develop their capacity.
He disclosed that government had secured a loan of US$24.7 million to procure fire tenders for distribution to fire stations nationwide.
By Sylvanus Nana Kumi & Ethel Kangberee