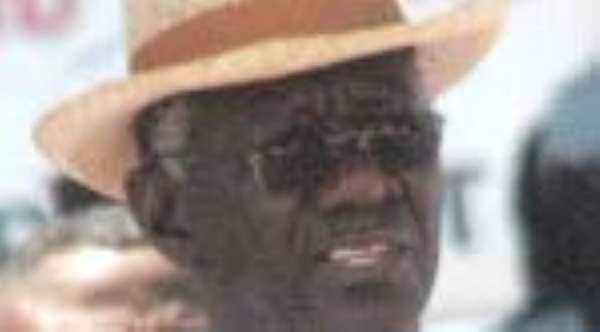 THE MAJORITY Leader and Minister for Parliamentary Affairs, Hon. Abraham Ossei-Aidooh has stated that President J.A. Kufuor has no obligation to give anybody any reason for the appointment or sacking of officers.
According to him, the call for the President to give a reason behind the sacking of former National Security Minister, Francis Poku, was a waste of national effort and time as people cannot ask him to give a reason behind the decision he has taken.
He stressed that nobody, under any law, could ask the President to disclose such reasons as the appointment and dismissal of his cabinet ministers were his prerogative.
He therefore suggested that the incessant calls for the President to explain the recent action should be disregarded.
The Majority Leader made these remarks yesterday at a press briefing under which the leadership of the House, in collaboration with the Centre for Democratic Development (CDD) of Ghana, held discussions on issues that were likely to engage Parliament's attention during the Fourth Session, which began yesterday.
Hon. Ossei-Aidooh, who echoed what many MPs said earlier on the floor of the House, stated that during the months of May to December, many MPs would likely be leaving for their constituencies for a "battle to survive", saying there would therefore be an adjustment in the calendar of the House.
When asked if he also intended to contest in the upcoming elections, he answered, "I want to inform the whole country that I intend to come back".
The Majority Leader explained that this was the last year for most of them in Parliament and therefore it was important to leave a legacy behind.
This Fourth Session, according to him, would not just focus on infrastructure alone but importance would be given to the legal framework in Parliament because both were areas where Parliament intended leaving its legacy.
He added that there would also be an amendment of the Public Service Act and the Standing Order, by granting Parliament maximum independence.
Lending support to the Minister for Parliamentary Affairs, the Deputy Majority Leader, who is also MP for Suame, Hon. Osei Kyei-Mensah Bonsu acknowledged that there was indeed a need for Parliament to have independence for development in respect to conflicts regarding chieftaincy matters.
He said whenever serious matters such as the Anlo and Bawku conflicts arose, it was important for Parliament to streamline issues to ensure that there was dialogue between the feuding parties.
He added that a review of the Standing Orders had been made, and explained that there was a need for the press to also partner with Parliament as an institution to help contribute to development.

Adding his voice to the pair, the Deputy Minority Chief Whip, E.T. Mensah said there was a need to have experienced people in Parliament for development, noting that MPs were basically lawmakers and not people who would provide the basic needs of their constituents, as most people erroneously thought.
He also claimed many people looked at one side of an issue and drew conclusions without knowing the full facts, which was not good for a democratic practice.By Sylvanus Nana Kumi