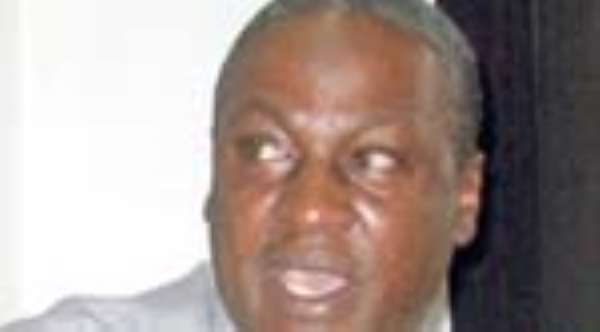 The National Democratic Congress (NDC) Member of Parliament (MP) for Bole Bamboi, Hon John Mahama has been accused of swindling a military officer at Kumasi in the Ashanti region.
The MP, tipped to partner Prof. J.E.A Mills, flagbearer of the NDC in the 2008 presidential elections, was said to have used a whopping 30 million cedis belonging to the soldier, Staff Sergeant Alemawor Vincent, to acquire five corn mill machines for distribution in his constituency, while the army officer wallowed in poverty.
Sources at the headquarters of the Northern Command of the Ghana Armed Forces told DAILY GUIDE in an interview that, of the amount, the MP had managed to pay only 13 million cedis.
It said sometime in September last year, Mr. Alfred Mahama, acting on behalf of his brother, Hon. John Mahama, approached Warrant Officer (WO) II Ewortumah, a military officer stationed in Sunyani to order 10 corn mills for the MP.
Alfred Mahama, according to our sources, pleaded with the Sunyani-based soldier to use his allowances from the six-months UNOCI-4 operations embarked upon in Cote d'Ivoire last year to purchase the machines for the Bole Bamboi MP with the promise that the money would be refunded on his return.
Realising that he could not solely raise enough money to purchase the corn mills, WO II Ewortumah, while in Cote d'Ivoire, asked Staff Sergeant Alemawor, who was in the same unit with him to pay for five of the machines, whilst he paid for the remaining five.
The sources expressed disappointment with the MP, who allegedly took delivery of the machines at the Burma Camp in Accra and distributed them among selected communities in his constituency.
Fuming with rage when the paper contacted him, Staff Sergeant Alemawor Vincent warned he would deal drastically with Hon. Mahama and his brother if he set eyes on them.
The soldier was angry that the MP had used his money to score political points whereas he (Soldier) was finding it difficult to raise money to finance the education of his wards.
He appealed to the MP and his brother to as a matter of urgency refund his money or he would advise himself.
When DAILY GUIDE reached Mr. Alfred Mahama for his comments, he confirmed the story but denied the involvement of Hon. Mahama in the deal, stating however that the MP bought three of the machines to be distributed for three communities in his constituency.
According to Alfred Mahama, Hon. Mamaha had already given about 25 grinding machines to his constituency to improve the living standards of the people.
The MP's brother pledged to refund the money to the soldier with adequate compensation by the end of the month.
Also corroborating the story in a telephone interview, WO II Ewortumah, cousin to Hon. Mahama, who admittedly pushed Staff Sergeant Alemawor into the mess, expressed regret that his colleague's money had not been fully paid.
He as well denied the involvement of the MP in the deal, stressing, "I mentioned the name of the MP to make it easier for my colleague soldier to trace the money."
From James Quansah,