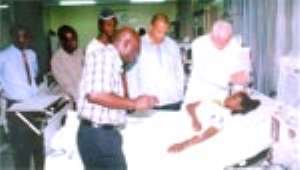 To show his seriousness about donating one of his kidneys to a 30-year-old lady diagnosed of kidney dysfunction, 26-year-old Sirth Faith Amago has visited kidney patients at the Dialysis Unit of the Korle-Bu Teaching Hospital.
After announcing his decision to part with one of his kidneys to save the life of Victoria Bleboo, the young student has in the past week embarked on several projects to raise the needed $50,000 a South Africa-based hospital is demanding for the transplant.
On January 10, 2008, Sirth embarked on a four-day hunger strike at the Kwame Nkrumah Circle to solicit funds for other patients who also need kidney transplant.
Before embarking on his mission, Sirth called on individuals, corporate bodies, churches and philanthropists to make donations into a special fund that would be used to cater for the needs of patients with kidney problems, but during that period nobody made any donation.
Sirth was accompanied on his visit to Korle-Bu by Father Campbell, a Catholic priest in-charge of the Weija Leprosarium; Dr Bryn Cox, a medical practitioner; and Borax, a musician who have come on board to help raise funds during this soccer season to save lives.
The slogan for their fund-raising mission is "one game, one people, one continent, one kidney, one destiny".
Through this publication, a special appeal is being made to all to support Victoria by donating generously into a special fund dubbed "Save Victoria Fund" or Victoria's personal account number, 0200101476118 at any branch of Unibank.
By Emelia Ennin