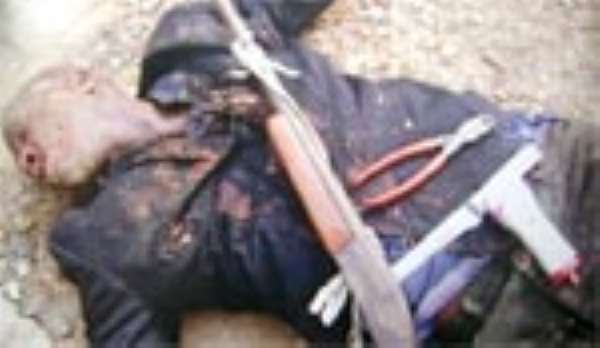 TEMA POLICE, in a gun battle over the weekend, killed a suspected cable thief who opened fire on them when they attempted to arrest him and two others, now at large.
The unidentified thief, according to the Tema Regional Police Commander, Assistant Commissioner of Police (ACP) John Kudolor was gunned down after he opened fire on the police and was in the process of reloading his single-barrel gun for further attack.
According to ACP Kudolor, finger prints of the cable thief were taken to ascertain whether the deceased was on the criminal list of the police.
Briefing DAILY GUIDE, the Police boss disclosed that on Friday January 16, they had information about some people nosing around Sethi Brothers area, where Ghana Telecom (GT) has its workshop in Tema.
The Police Regional Chief hinted that theft of GT cables in the area and the whole of Tema in general had been going on for sometime now, and this had put the police on alert.
He said, "When we had these pieces of information, we did not underrate them and had to dispatch a team of police men, comprising detectives and men from the Buffalo Unit to the area as early as possible."
According to the regional Commander, the thieves swerved the police and went to another place where they were able to cut about 150 yards of overhead cable, but on seeing the police took to their heels.
When they were being chased, according to ACP Kudolor, just around Sethi Brothers, one of the thieves opened fire on the police with a single short-barrel gun, and in the process of re-loading the gun, the police also fired back, killing him instantly.
ACP Kudolor said, "Crime scene facts available indicate that the remaining two have also sustained some gun shot wounds". He therefore appealed to the general public to report to the police anyone suspected to have such injuries.
The body of the robber has since been conveyed to the Police Hospital in Accra for autopsy.
In related development, the Tema Regional Crime Officer, Chief Superintendent of Police Joshua T. Dogbeda told DAILY GUIDE that on Thursday January 17, armed robbers numbering about 5 attacked a certain house at Sakumono and fired on a police officer guarding the place.
According to the Crime Officer, when the armed robbers jumped the fence wall, dogs in the house started barking and this alerted the policeman.
Chief. Supt. Dogbeda said when the robbers opened fire, the policeman was hit in the right leg but he did not give up and also returned fire.
He said blood stains were dotted around the crime scene which made them suspect that some of the robbers might have sustained gunshot wounds. He called on members of the public to report anyone with such injuries to the police.
The Crime Officer warned that despite police determination to maintain tight security at the CAN 2008 tournament, they still have enough men to fight crime at other places.
He cautioned potential criminals that they would not have it easy in their bid to make the work of the police difficult.
From Simmons Yussif Kewura, Tema