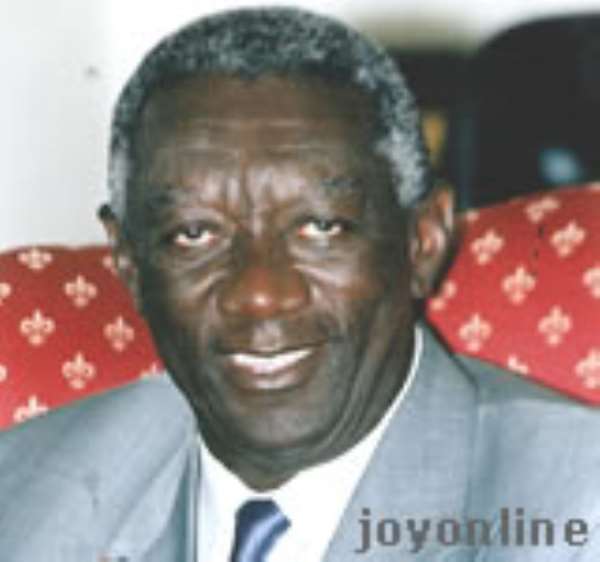 The Member of Parliament for Asutifi South and the Minority Spokesperson on Forestry, Hon. Collins Dauda, has descended heavily on President John Agyekum Kufuor for misrepresenting the facts as they affect issues of cocoa pricing in Ghana.
He has debunked claims by President Kufuor at Tuesday's Peoples Assembly that the cocoa farmer was now paid as much as 72% of the FOB price for a bag of cocoa, as against less than 50% under the NDC.
Debunking this claim, Hon. Dauda said that currently government pays only 70% of the FOB price to farmers, and that under the NDC they were paying 67%, contrary to the President's claim of 50%.
He has also debunked claims that a bag of cocoa buys more under the ruling New Patriotic Party (NPP) than under the erstwhile National Democratic Congress (NDC) government, and challenged the President to go back and get his facts right.
Hon. Collins Dauda was speaking to The Daily Searchlight on Tuesday in reaction to statements made at this year's edition of the Peoples Assembly by President John Agyekum Kufuor in Sekondi.
Responding to a questioner called William, who claimed to have come from Tanokrom, President Kufuor, espressing doubt as to whether the questioner was really a farmer as he claimed, said that since 2001 when the NPP government assumed office, the cocoa farmer has been, exceptionally well-treated. "When we assumed office, the producer price of the farmer was not even fifty percent of the FOB price of cocoa. As I speak to you now, the producer price is seventy-two percent of the FOB price for cocoa. It is a huge jump, and I am sure the genuine farmers know. You heard somebody from Anwhiaso Bibiani. He, I can assure you, is a genuine farmer, and you heard him in his contribution. Please go and do the research and come next time," President Kufuor said.
Continuing, President Kufuor told the hapless William, "You also tried to use statistics to show that perhaps the farmer is worse of now, talking of the cost one bag of cocoa being able to buy two packets of roofing sheets and cement, and I am telling you the farmer gets more for cocoa now, more than ever before, and that when you travel around, in the farming communities, you drive from Elubo for instance to Assinkrom to Enchi, you see that the farmers are now roofing their buildings with aluminum, and no more the thatched as used to be the case, and if cocoa price was lower this would not be possible. Again I would tell you to go to the true facts, and see things for yourself."
Responding, however, Hon. Collins Dauda said that President Kufuor has goofed. "He got everything wrong in the matter of the cocoa," he said.
The Member of Parliament for Asutifi explained that it was the case of the questioner that when President Kufuor, as the then opposition leader in 2000, promised the people of Sefwi when he was campaigning that he would pay farmers more than a million cedis for a bag of cocoa and that the then NDC government was cheating farmers.
"This was when he was the opposition leader. That is why the questioner said that when he came to the Sefwi area, he told them that the inability of the people in government then, the NDC government, to pay a million cedis for a bag of cocoa amounted to cheating farmers, and therefore that if he is voted for he would sell a bag of cocoa at one million cedis. So the guy said that for seven years now since President Kufuor came to power, going on to eight years, a bag of coca has not reached six hundred thousand cedis. So he asked him whether he is also cheating farmers," Hon. Dauda said.
Going on, he said that the questioner also wanted to know from the President whether the value of monies paid to the farmer had not been devalued, considering the fact that under the NDC the money paid to the farmer could buy a packet of roofing sheets, which was not the case today.
"To this President Kufuor told him to go and do his research properly, that he is not sure that he is really a cocoa farmer, or even a farmer at all., that he has done a lot for cocoa farmers, that when the NDC was in government, the NDC was not able to pay fifty percent of FOB price, to the cocoa farmer, and that he is able to pay seventy-two percent of FOB," Hon. Dauda said.
Hon. Dauda said that from his answers, the President has goofed.
"He has goofed big time, because in October 2000, the price of cocoa was announced at two hundred and seventeen thousand cedis a bag. And that represented 67% percent of FOB, and that can be found in the Daily Graphic of October 14th, 2000, in a story titled 'Cocoa Price Up', written by one Francis Eshun Baidoo. So for President Kufuor to say today that during the time of the NDC, we did not give farmers up to fifty percent FOB is a lie. He lied big time, to Ghanaians," he said.
On the issue of value, he said that under the NDC, even though they were paying only 67%, money paid to the cocoa farmer could buy more than it can today.
"During our regime, a bag of cocoa could buy one packet of roofing sheets and still the farmer had some left over to buy nails and to transport the roofing sheets to his village. Today, at five hundred and ninety-two thousand cedis, the cocoa farmer needs to borrow money to add to the bag of cocoa to be able to buy roofing sheets, because a pack of roofing sheets sells at a minimum of one million cedis, almost two bags to buy a packet of roofing sheets!"
"President Kufuor says that he pays seventy-two percent FOB to farmers. In that regard too he lied big time! This year this government is paying seve70% net FOB, which is different from FOB. In NDC time we paid 67% FOB. That is why if you look at the volume of the prices, in the NDC we paid 67% FOB, and today they are paying 70% FOB," he said.
As a consequence, Hon. Collins Dauda advised President Kufuor to rather go for better lessons from his officials instead of advising others to go for better research.
"He should rather go back to his officials at Cocobod to provide him with requisite information. And this is not the first time he has done it. You remember in 2003, he went to Ajumako and said that during the NDC regime, a bag of cocoa could not even buy two bags of cement, and we challenged him. Aseidu Nketiah quickly organized a press conference to debunk that statement, that the President should get his facts right before making such statements," Hon. Collins Dauda said.
Source: Ken A. KURANCHIE/The Daily Searchlight