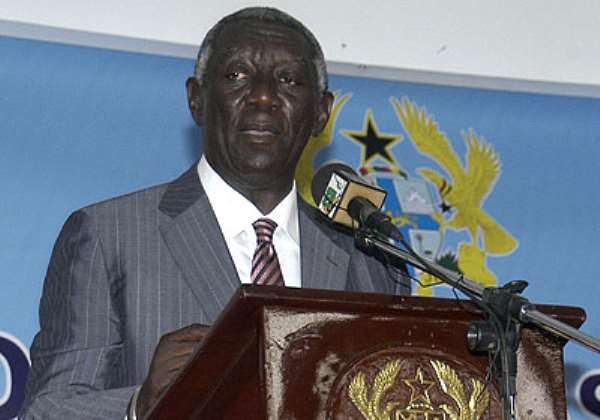 President John Agyekum Kufuor making a point at the People's Assemby President John Agyekum Kufuor on yesterday invited all Ghanaians to join hands in the battle against corruption by providing important and reliable information. He said individuals should boldly put forward information to enable the appropriate institutions to investigate and prosecute offenders.
President Kufuor, who was addressing the seventh edition of the Peoples' Assembly in Sekondi in the Western Region, said his commitment towards fighting this evil in the Ghanaian society remained total and irreversible. 'I have never hesitated to deal with any acts of corruption within my administration when it comes to my notice.
'But without proof, pursuit of unsubstantiated allegations would lead to instant justice, which must be discouraged.' Vice President Alhaji Aliu Mahama, senior Government Ministers and Officials attended this year's Assembly held on the theme: 'Ghana after 50: Looking into the Future with Hope.'
The Assembly, an innovation by President Kufuor, is aimed at deepening democracy and good governance by providing the platform for the people to ask their elected Leader questions about the management of the nation.
President Kufuor made reference to the promise he made, when he assumed office in 2001 to ensure 'zero-tolerance of corruption' and underlined various measures taken to keep alive this promise. He pointed out that globally the war on the canker had been waged primarily through the establishment of new institutions and strengthening of existing ones.
He mentioned institutions like the Serious Fraud Office, Police, Commission on Human Rights and Administrative Justice (CHRAJ) and the courts, which he said were all being progressively improved and strengthened.
Additionally, there had been the enactment of new legislation such as the Public Procurement Act; the Public Audit Act; the Whistle Blowers Act, the establishment of the Revenue Agencies Board and the repeal of the Criminal Libel Law.
The media, he said now had free rein, while independent Non-Governmental Organisations (NGOs) that dealt with corruption functioned freely without fear.
President Kufuor reviewed the performance of the Government and expressed optimism about the country's future.
The recent listing of Ghana by International Financial Review as the best country in contracting a Bond in the capital market from among Emerging Market Economies in 2007 and another rating by the International Finance Corporation (IFC) as the best Reforming Nation in terms of Doing Business in Africa south of the Sahara should be a source of pride to all Ghanaians.
President Kufuor said the Government's vision during the past seven years had been driven by a sharp awareness of the realities of globalisation, especially its competitiveness.
The development model of building a stable and growing economy, while at the same time firmly establishing institutions of democratic governance, showed some originality.
This, he said contrasted with the case of some emergent countries where accelerated economic growth tended to come at the expense of individual freedoms.