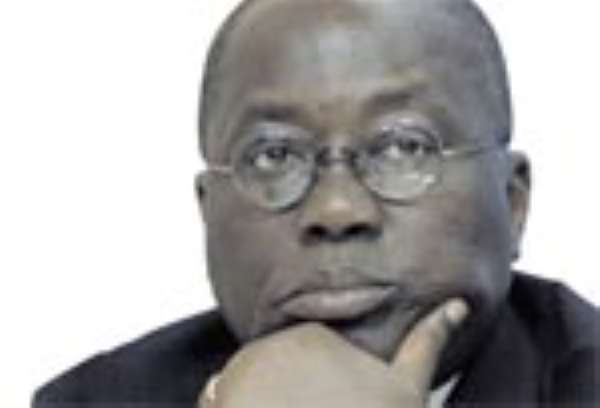 THE LEADERSHIP of the New Patriotic Party (NPP) has been asked to give its presidential candidate, Nana Addo Dankwa Akufo-Addo some time off to rest to enable him to choose an appealing running mate in order to ensure a third successive victory for the party.
Two leading members of the party, Kwame Pianim, former Chairman of the Public Utilities Regulatory Commission (PURC) and O.B. Amoah, deputy Minister of Education, Science and Sports who made the call, said it was too early for such pressures to be put on the flagbearer, especially after having gone through several months of hectic campaign prior to the just-ended NPP's national congress.
They said Nana Akufo-Addo should be allowed to come out with somebody who would complement the ticket instead of a parasite who is just out to share in the glory of the ticket.
Lobbyists have swung into action asking the newly-elected flagbearer to choose a running mate as soon as possible, especially someone of Northern descent or a woman. They have therefore pushed forward some names from which they expect the presidential candidate to make his choice.
But according to Mr Pianim, such pressures on Nana Addo could, to a certain extent, go to confuse him, thereby compelling him to make a wrong choice.
"As far as the interest of the party is concerned, Nana Akufo-Addo needs at least two weeks uninterrupted break to rest after a keenly-contested congress. This, I believe, would help him to have the right frame of mind to choose the right person to run with him in the December general elections," he said.
Mr. Pianim noted that selecting an appropriate person as running mate was crucial, considering the keen nature of this year's elections, especially between the NPP and its main rival, the National Democratic Congress (NDC).
Hon O.B. Amoah indicated that the running mate should be an asset, rather than a liability, pointing out that he must be a thoroughbred party man.
According to him, the party should scrutinize any possible running mate in order to avoid what he described as the "Arkaah episode".
Explaining the Arkaah episode, he noted that when former Vice President, Kow Nkensen Arkaah defected from the NDC to join the Great Alliance ticket with then candidate Kufuor for the 1996 elections, NDC apologists including Dan Markin of the Democratic People's Party (DPP) were on television with clips of the former Vice President lambasting the NPP on an NDC platform.
Mr Arkaah was Jerry Rawlings' vice president at the inception of the 4th Republic, before they fell out after a brawl at a cabinet meeting.
Amoah said the NPP running mate must be a strong candidate who can step in the shoes of the president if the need arises.
Several names have so far popped up as possible running mate to the candidate.
They include Minister of Water Resources, Works and Housing, Alhaji Boniface Abubakar Saddique; Ghana's Ambassador to Saudi Arabia, Alhaji Rashid Bawa; Northern Regional Minister, Alhaji Mustapha Ali Idris; Second Deputy Speaker and MP for Yendi, Alhaji Malik Alhassan Yakubu; Lepowura Nurudeen Jawula, Chief Director, Ministry of Health; Hajia Alima Mahama, Minister for Women and Children's Affairs (MOWAC) as well as Mrs Oboshie Sai-Cofie, Minister of Information and National Orientation.
Meanwhile, a pressure group within the NPP, has begun lobbying for the selection of Alhaji Mustapha Ali Idris, the Northern Regional Minister saying, he is by far, the most appropriate individual to partner Nana Akufo-Addo for a resounding victory in the December elections.
The group, however, on Monday January 7, denied being sponsored by the Regional Minister to do the lobbying for him. The denial was made on a local radio station, Citi FM's Eyewitness News.
Alhaji Saddique and Hajia Mahama, both current Ministers of State, have since shown interest in running with Nana Akufo-Addo if offered the opportunity.
"There is no point in rejecting an offer to become the vice president when I am sure of using my political experience to contribute to Ghana's development agenda," Alhaji Saddique told an Accra-based radio network.
In a related development, the issue of choosing women to run with the various presidential candidates has for some time now been the focus of discussions.
The issue has been warmly welcomed by majority of Ghanaians who say a woman vice president for Ghana is long overdue.
Civil society groups have since called on the various presidential candidates to consider the idea of choosing women as running mates.
Names like Mrs. Betty Mould Iddrisu, wife of the former Defence Minister in the NDC regime, Alhaji Mahama Iddrisu; Hannah Tetteh, former MP for Awutu-Senya (Kasoa), and Hajia Alima Mahama, Minister for Women and Children's Affairs, have since come up as women who could contribute immensely to the nation's accelerated development.
By Grace Eyram Dartey