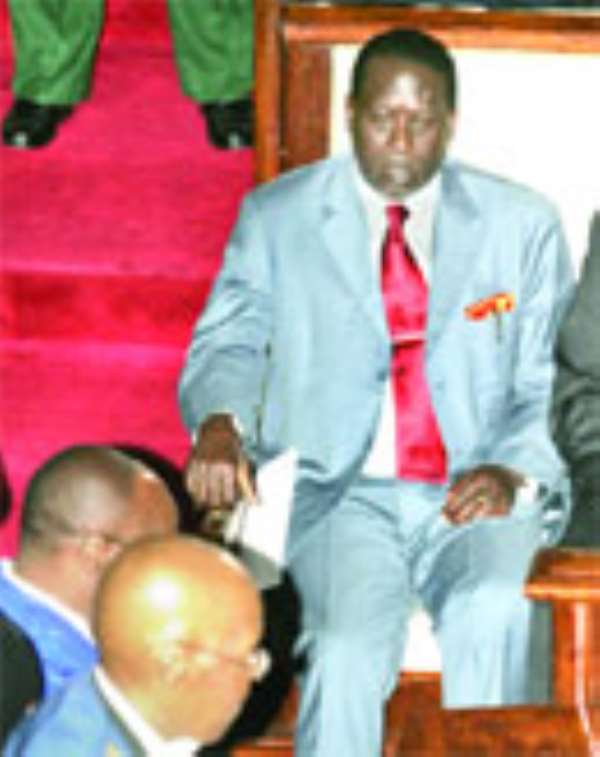 KENYA'S opposition won the post of speaker of parliament yesterday, confirming its supremacy in the house and spelling legislative problems for President Mwai Kibaki after his disputed presidential election.
After three rounds of votes, Kenneth Marende, candidate of the Orange Democratic Movement (ODM), achieved the required simple majority to become speaker in the first session of parliament.
Marende won 105 votes against 101 for the government candidate, outgoing speaker Francis ole Kaparo.
The close vote indicated that there could be deadlock in parliament and Kibaki would have difficulty passing essential bills.
The election of the speaker followed a stormy session reflecting deep bitterness over Kibaki's re-election.
Opposition and government legislators argued for an hour before eventually deciding the poll for a new speaker should be secret.
"We went through (national) elections with a secret ballot, and you stole the vote," said William Ruto, of ODM.
Government legislators called for calm, saying the rowdy behaviour was dishonouring those who have died.
"This is the 10th election of a speaker. It has always been by secret ballot," justice minister Martha Karua told the house.
"Some people with the title 'Honourable' in this House are planning murder and instituting murder," she said, in a reference to killing of PNU supporters in the Rift Valley.
Roads were closed and riot police ringed the building as Kibaki and opposition leader Raila Odinga entered parliament at the same time, without looking at each other. It was the first time they had been in the same room since the election.
In the 222-seat parliament, ODM commands the highest number, 99, after many of Kibaki's former ministers and supporters were swept away in the election, while Kibaki's PNU won 43 seats.
Meanwhile, in a blow to prospects of ending the crisis, former UN secretary general Kofi Annan, due in Nairobi last night to head mediation efforts, fell ill with severe flu and delayed his peace mission for a several days, his office said.
"On advice of doctors, he has postponed his mission to Nairobi for a few days," Annan's office said in a statement.
He was to head a group of "Eminent Africans" trying to mediate between Kibaki and opposition leader Odinga.
Graca Machel, wife of Nelson Mandela, and former Tanzanian President Benjamin Mkapa are due to join Annan.
Foreign diplomats want Kibaki, 76, and Odinga, 63, a one-time member of his cabinet, to meet and agree on a power-sharing arrangement or a new vote.
In the toughest action from the West since the crisis began, the European Union threatened late on Monday to cut aid.
Though the presidential vote was widely perceived to be flawed, the parallel parliamentary ballot on December 27 was given a relatively clean bill of health by most independent observers.
After parliament's opening, the opposition plans three days of nationwide anti-Kibaki protests, starting at midday today.
Police have banned the rallies and many expatriates are leaving Kenya in anticipation of trouble.
The 4,000 staff working for the United Nations in Nairobi were on a Phase 2 alert, of three levels, meaning only essential staff are required to be at work.