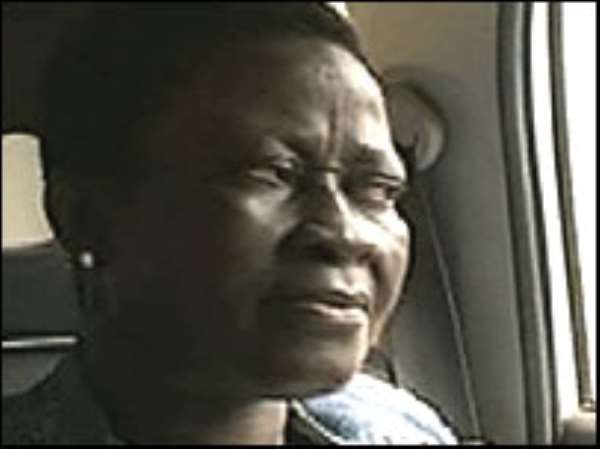 Ama Sumani was treated at the University Hospital of Wales, Cardiff
An appeal fund to help a terminally-ill Ghanaian woman who was removed from the UK because her visa expired, has been set up by her friends in Cardiff.
Ama Sumani's friend Janet Simmons said pledges of money had been "flooding in" to the appeal, which is being run out of an African craft store in the city.
Ms Sumani, 39, had been receiving dialysis at a Cardiff hospital after cancer damaged her kidneys.
But she cannot afford this care, which is prolonging her life, in Ghana.
Speaking from the country's capital city Accra, Ms Sumani thanked all the people fighting her case in Britain.
"My big thanks to all of them," she said.
"God bless them and anyone who's fighting for me - to save my live. God bless them, God bless all of them."
Ms Simmons said the Friends of Ama committee set up to help Ms Sumani, was made up of a number of different members of the local African community.
It is based in the Xquisite Africa shop on City Road in Roath in the city.
"The public response has been tremendous," she said.
"We have had a call from a lady in Llandudno who says she is willing to pay for all the hospital bills.
"A woman from Rhiwbina (in Cardiff) rang and said "I am a pensioner, I don't have much but I will contribute £100"."
UK officials said they had checked medical treatment was available in Ghana before Mrs Sumani was flown home.
Less than 24 hours after being removed from the University Hospital of Wales, Cardiff, she attended the main hospital in Accra.
The mother-of-two said the hospital had then asked for the equivalent of about $6,000 (£3,060) to cover her kidney dialysis sessions for the next three months.
A hospital official in Ghana said Mrs Sumani had been accompanied by British immigration officials, who had offered to pay for the first three months' treatment.
However, he said the hospital could not help her as she had no source of funding for the ongoing medical care she required.
Judicial review
Ms Sumani has a type of cancer - malignant myeloma - which has damaged her kidneys.
She had been receiving dialysis three times a week in the UK before she was sent home with an expired visa.
Ms Simmons said Ms Sumani was now accompanied by the BBC's west Africa correspondent Will Ross, who had helped her with accommodation, food and trying to get dialysis.
"Her condition is worsening. Her feet and hands are starting to swell up and so we are hoping she will get onto a machine to keep her going."
Rev Aled Edwards from Cytun, Churches Together in Wales, called for a judicial review of the case.
"I am greatly concerned after looking at the papers and consulting with her friends about the legal case here," he said.
"I think it raises huge questions about the right to life."
On Friday, Ghana's High Commissioner in London Annan Cato urged the UK government to allow Ms Sumani back.
In a statement, the Border and Immigration Agency said it examined with great care each individual case before removal.