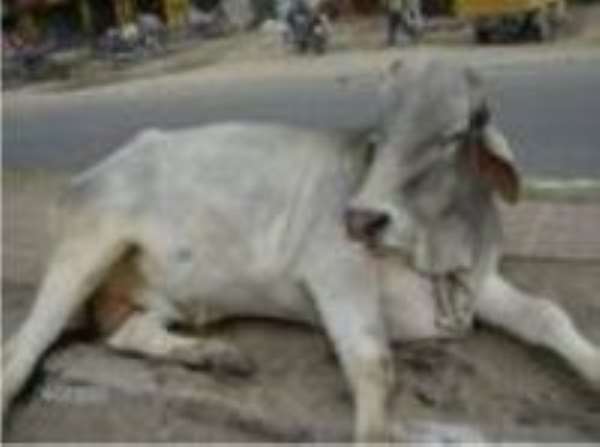 A lanky-looking cow nearly caused the death of a young man believed to be in his late thirties when it crossed his ash Benz saloon car with registration number GE 3624V on the Olusegun Obasanjo Way off the Pig farm- Dzorwulu road yesterday.
This accident comes just three days after a driver on the Accra-Tema Motorway, in an attempt to avoid hitting a stray dog, hit it anyway and somersaulted several times, rolled into the other lane and got hit by two other cars, causing the death of two passengers and the injury of several others.
Though there were no casualties in yesterday's incident, which occurred at about 10:35am, the Benz car was badly damaged after colliding with the cow.
According to Augustine Opoku, an eye witness, the cow, one of three being shepherded by three young men broke free and run onto the road, colliding with the saloon car, which was traveling at top speed on the highway.
He said the shepherds, who made a last minute effort to drag the cow back before it jumped into the street without, took to their heels when they realised the harm the cow had caused to the Benz saloon car.
Some onlookers however gave them shepherds a hot chase and managed to apprehend one of them, who then led the driver to the owner of the cow.
The accident brought traffic to a temporary halt, with some drivers in 4-whel drive vehicles attempting to climb on the pavements and the shoulders of the road in a bid to continue their journeys.
It was not clear whether the owner of the car had made a report to the police as at press time but some police vehicles which drove on the other lane during the period this reporter was at the accident scene refused to stop with the police officers viewing the scene from the comfort of their vehicle seats.
By Cynthia Boakye