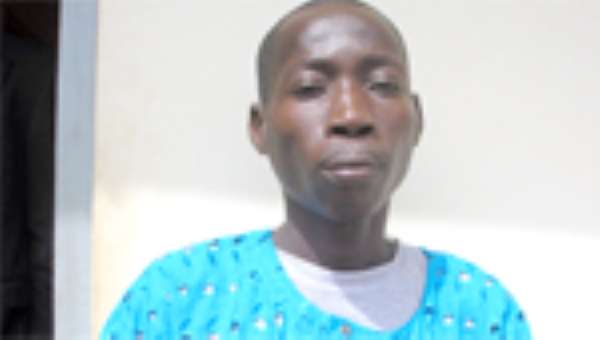 INFORMATION REACHING DAILY GUIDE indicates that Boateng, who allegedly defiled a nine-year old girl, Abena Talata, leading to her death, has admitted to committing the act but denied that he penetrated her with his manhood.
Boateng, according to the victim's father, Kwaku Darko, admitted using his finger to penetrate the girl for which he was made to pay GH¢60 or ¢600,000 to Talata's auntie, Rebecca Yebokowa.
Narrating the incident to DAILY GUIDE, Darko said about a year and three months ago his only sister approached him to allow his eldest child to come and live with her, having lost all her children.
Darko said because Rebecca was the only sibling he had, he could not turn down her request.
He continued that since the day he gave his daughter to Rebecca, he never saw the girl until she was brought to him on November 26, 2007 at his residence at Gambia No.1 in the Asutifi District of the Brong Ahafo Region.
Mr. Darko, who looked very sorrowful, said when he saw Talata he could not believe his eyes.
"Talata had emaciated and had her feet swollen with protruded tummy," he stated.
Asked what the auntie said was wrong with her, Darko said "she said she has no idea and that what I was seeing was the sudden change she had also observed, the reason why she had brought my daughter back."
"In fact, I grew furious and demanded she told me what had happened to my daughter but she insisted she had no foreknowledge of Talata's predicament," Darko recounted.
He said while preparing breakfast for Talata the next day she collapsed and had to be rushed to the Goaso Government Hospital in the Asunafo North District.
It was at Goaso that doctors diagnosed that the girl had been raped.
Mr. Darko said even at Goaso, his sister still denied that the girl had been defiled.
He said it was when they were referred to the Regional Hospital at Sunyani and doctors there also confirmed that Talata had been raped that Rebecca admitted the girl had been defiled, after he had threatened to cause her (Rebecca's) arrest.
He said immediately, the unit head of the social welfare department, Ms. Olivia Avudzega called in the police, who then came for him and Rebecca for interrogations.
Darko said it was at the police station that the sister mentioned Boateng, when the police suspected her husband.
Rebecca, who now has a seven-month old baby boy, is reported to have said that during her labour period she had to travel with her husband from Emaape to Enchi in the Western Region to be delivered of her baby.
She mentioned that when they were leaving the village she instructed Talata to spend the night at a neighbour's house after having her supper.
According to Rebecca, it was on the way to the said neighbour's place that Boateng spotted the deceased and asked her to rather spend the night with him since where she was going was far and night had fallen.
Rebecca said she suspected that since that day Talata became a sex object for Boateng, as the girl was sometimes absent in the mornings.
She said Talata initially was tight-lipped when she noticed some changes about her, especially in her walking.
However, when she later confessed what had happened, Talata was neither taken to the hospital nor Boateng reported to the police. Rather, a meeting was conveyed by Rebecca and some elders to settle the matter at home.
Though earlier reports said Boateng was asked to work and cater for the girl, Talata's father told DAILY GUIDE that Boateng told him on the day of his arrest that he only used his finger in penetrating the girl and had paid an amount of GH¢60 as compensation to the victim's aunt.
However, Rebecca denied taking any money but said Boateng asked her to collect some monies from his debtors, which she has since not done.
Meanwhile, doctors at the regional hospital in Sunyani have indicated that Talata, who was referred from the Goaso Government Hospital, was brought to Sunyani on December 4, 2007 and not November 27.
They noted that upon examination, Talata had high blood pressure due to kidney failure and could not pass urine and that she also had swollen feet as well as breathing problem.
They added that Talata as well had a lump in her right lower abdomen, cancer in her ovaries and had the inner sphincter of her anus completely broken, which left her anus widely open and swollen, making her discharge indiscriminately.
Talata's anus was said to have been torn also due to the act.
The doctors indicated that the act could not have been committed only once, but over a period of time.
They however stated that Talata might have been defiled through the anus since her vagina was fine, except for a tear.
Talata, who was the eldest of her parents' three children, died on December 13, 2007 and has since been buried at the New Dormaa cemetery in Sunyani after an autopsy was carried on her body on December 21, 2007, while the suspect, Boateng is in the custody of the Tarkwa police and would soon be arraigned.
From Rocklyn Antonio, Sunyani