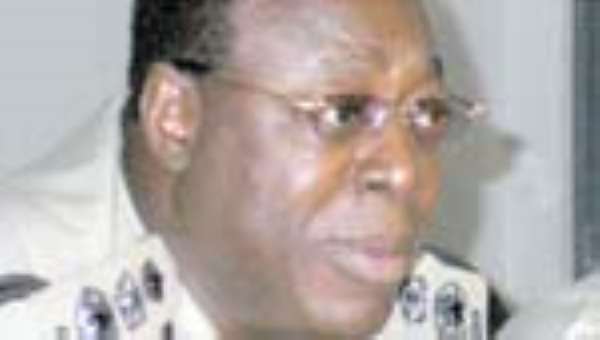 THE GHANA Police Council has defied the National Reconciliation Commission (NRC) in respect of 28 Police Officers whose benefits government requested be paid to them following the NRC's recommendations.
The Attorney General and Minister of Justice, on February 8, 2007, ordered the payment of benefits to the police officers, who were dismissed from the Police Service on various alleged misconducts but up till now the Police Council had failed to follow the directives of the government to effect the Commission's recommendations.
The Police Officers are Prince Gabriel Kwami, Frederick Ayeh Okraku, Samuel Nimeko Frimpong, Linus Attachie, Seth Mensah Martey, DSP Emmanuel Yaw Blessie, Superintendent Gabriel Loveridge Quampah, Francis Nsowah, Alfred Setsoafia, Charles Mensah and John Yaw Frimpong.
Others are Mensah Sogbey, Emmanuel Appiah, Emelia Amoah-Danso, Ernest Agyei-Kwakye, Johnson Meheso, Albert Dodoo, Kingsley Kwasi Adjei, Agorkpah Rockson Symons, Anthony Alagiwusa Kubara, James Yeboah, Peter E.K. Quayse and DSP Lawrence Kwaku Zikpi.
The rest are Peter Amo-Baah, John Kusi Appiah, Seth Emmanuel Adams and Sisu Ahmed.

According to the directive, signed on behalf of the Attorney General by Justice V.C.R.A.C. Crabbe, Commissioner of Statute Law Revision and issued to the Police Council, the Police Council should take the "necessary steps for the implementation of this directive in keeping with government policy on the recommendations of the (NRC) reports.
"We trust we can count on your co-operation in this matter to see to it that the relevant payments are made".
But unfortunately, almost one year has elapsed with the Police Council yet to abide by the "direction in keeping with government policy on the recommendations of the reports" and to ensure that "relevant payments are made".
John Yaw Frimpong, then a Corporal before his dismissal from the Police Service, told DAILY GUIDE that on April 1, 1989, he and eight other colleagues manning the Ofankor police barrier were surrounded by a group of police officers who called for a search on them on the accusation that they were collecting monies from drivers.
He alleged that though nothing was found on them they were tried by the Police authorities twice and on both occasions exonerated. They were later given dismissal letters by the police authorities.
This, according to Mr. Frimpong, now a security officer with Ghana Telecom in Kumasi, did not go down well with them and they therefore went to court to seek redress.
He said on September 28, 1989 they won the case in a court presided over by Justice E. Pieasare, a High Court Judge, who ordered their re-instatement.
He said they were denied this and he, on behalf of his colleagues, then took the issue to the National Reconciliation Commission where their petitions were upheld with the recommendation that their benefits should be paid to them.
"But as I am speaking to you now, it is almost a year and nothing has been paid to us and it is always 'we are on it' whenever we called on the police authorities," he bemoaned.
By James S. A. Kwashie