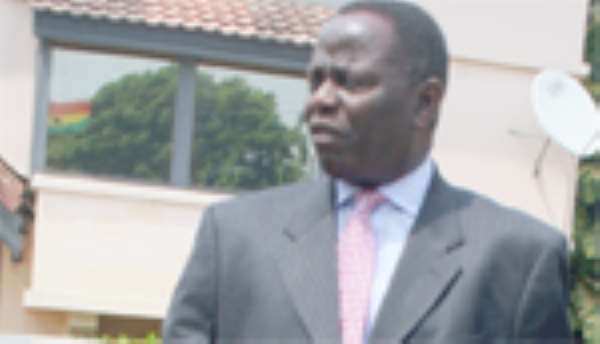 THE CHIEF Executive Officer (CEO) of the Millennium Development Authority (MiDA), Martin Eson-Benjamin has stated that farmers would be the main beneficiaries of the approximately $547 million Millennium Challenge Compact (MCC) signed between the United Sates of America and Ghana.
According to him, the five-year agreement, which officially came into force on February 15, 2007 after parliament had rectified the compact to make it a treaty, aims at reducing poverty by raising the incomes of farmers through agribusiness development among others.
The programme, he continued, would increase the production and productivity of high-value cash and staple food crops, which would also enhance the competitiveness of Ghana's traditional food on the international market.
"Some of our farmers are poor because they only target the local markets, forgetting about the foreign ones, which can also fetch them a lot of money," he added.
Mr. Eson-Benjamin disclosed this when he visited the offices of DAILY GUIDE.
"I am here first to commend you on the great work you are doing for the country and to congratulate you on the great efforts you are putting in your work, and secondly to talk to you about MCC."
Mr. Eson-Benjamin reiterated that the MCC programme consists of three projects, namely Agriculture, Transportation and Rural Service.
Under the agricultural project, he stated that the programme would among other things accelerate the development of commercial skills and capacity among Farmer-Based Organisation (FBOs) and their business partners including entities, adding value to agricultural crops such as processors and marketers.
He added that the programme would operate in 31 out of the 166 newly created districts in the Northern region, the central Afram basin region and the southern horticultural belt in the south-eastern regions, where poverty rates are generally above 40 per cent.
"The Agriculture Project will directly benefit more than 100,000 farm and rural households, comprising an estimated 500,000 individuals, through the commercial activities of at least 1,200 FBOs and 120 service providers located throughout the 31 target districts," he emphasized.
On roads, he noted that MiDA would support the rehabilitation or upgrading of 230 km of trunk roads and about 950km of feeder roads in the intervention zones.
He particularly mentioned that work on the Mallam-Tetteh Quarshie highway would soon start.
He also said the growth of agriculture in the Afram basin would be facilitated by improving the ferry service of the Volta Lake Transport Company that connects Adawso on the southern shore to Ekye Amanfrom on the northern shore.
Mr Eson-Benjamin said the rural services project would complement the agricultural project by funding construction and rehabilitation of educational facilities among other projects.
He noted that Ghana would hopefully achieve all these before the expiration of the contract, and called on all Ghanaians to support the programme.
By Esther Awuah