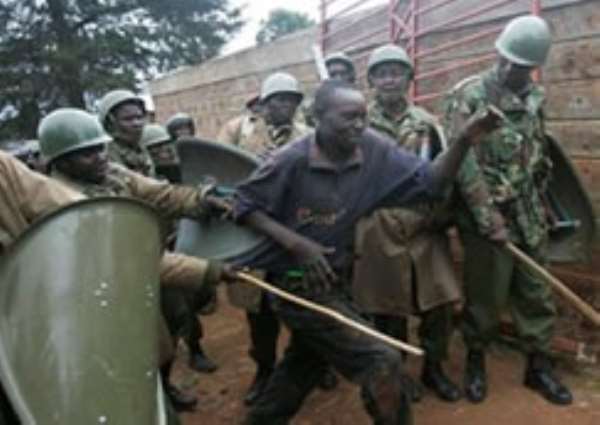 NAIROBI, Kenya (AP) — Police fired tear gas to scatter women opposition supporters marching through Kenya's capital on Thursday calling for peace and justice, and civil rights groups demanded officials be prosecuted for allegedly falsifying election results.
Kenyan citizens were mobilizing as their leaders continued to deadlock in a dispute that has killed some 500 people and displaced more than a quarter of a million in violent clashes across this once-peaceful east African nation.
Allies of President Mwai Kibaki, accused by the opposition of stealing the Dec. 27 presidential election, were sworn in as Cabinet ministers Thursday, dampening hopes for a power-sharing compromise. His rival Raila Odinga has refused a meeting with Kibaki.
"No peace, no justice! Kibaki is a thief," chanted protesters from the women's wing of Odinga's party before police fired tear gas. The women ran away in disarray.
"We are calling for truth about what happened to our votes and the votes of Kenyans," said the chairman of the party's women's league, Jacqueline Oduol.
Kenyans for Peace with Truth and Justice, an umbrella for civil groups formed after the elections, presented police on Thursday with a long list of alleged charges against electoral commissioners and some staff, including forgery, subverting the rule of law, making out false certificates and abuse of office.
The civic groups called for the prosecution of all 22 members of the Electoral Commission and some commission staff, including vote counters. Commission Chairman Samuel Kivuiti himself has said he is not sure Kibaki won the election, though he officially declared him the winner.
According to a Kenyan government website, Kibaki won 4,584,721 votes or 47% of the ballots cast, against Odinga's 4,352,993, or 44%.
"The electoral process is so seriously flawed that, until that is redressed, and until we have truth and justice about the election, we are not going to have a viable society in Kenya," said Shailja Patel of the Kenyans for Peace, which includes the state-funded Kenyan National Commission on Human Rights and Commission and the Law Society of Kenya.
But Kibaki said in a speech Wednesday he considered questions about the vote and the count closed.
The vote "is finished, and anybody who thinks they can turn it around should know that it's not possible and it will never be possible," Kibaki said, adding complaints should be taken to the courts, which he has stacked with his allies during his five years in power.
The crisis has brought chaos to what has been one of Africa's most stable democracies in a region rent by civil war and conflict and a prized ally in the U.S. war on terror.
A flurry of diplomatic efforts continued Thursday. Odinga was in a "tense meeting" with U.S. envoy Jendayi Frazer, African Union chairman President John Kufuor of Ghana, four former African heads of state and the ambassadors from the United States, Britain and France, his spokesman Salim Lone said.
After Kibaki met with Kufuor Wednesday, the government released a statement saying Kibaki "assured President Kufuor that he had already initiated a process of dialogue with other Kenyan leaders."
Kibaki has resisted outside mediation, while the opposition says it will not negotiate without it.
In another statement Wednesday, Kibaki said he was "committed to dialogue with all parties" and indicated there still was room for Odinga's party in his Cabinet. In filling half the Cabinet seats on Tuesday, however, he gave none to Odinga's party, even though the two sides were expected to discuss power sharing.
Odinga's party spokesman, Lone, has called the Cabinet announcement "a slap in the face" intended to undermine AU-mediated talks.
Odinga's party — the Orange Democratic Movement, or ODM — won 95 parliament seats and Kibaki's party 43 in legislative elections held the same day as the presidential vote, meaning it would be difficult for Kibaki to govern without making some overture to Odinga.
Copyright 2008 The Associated Press. All rights reserved. This material may not be published, broadcast, rewritten or redistributed.