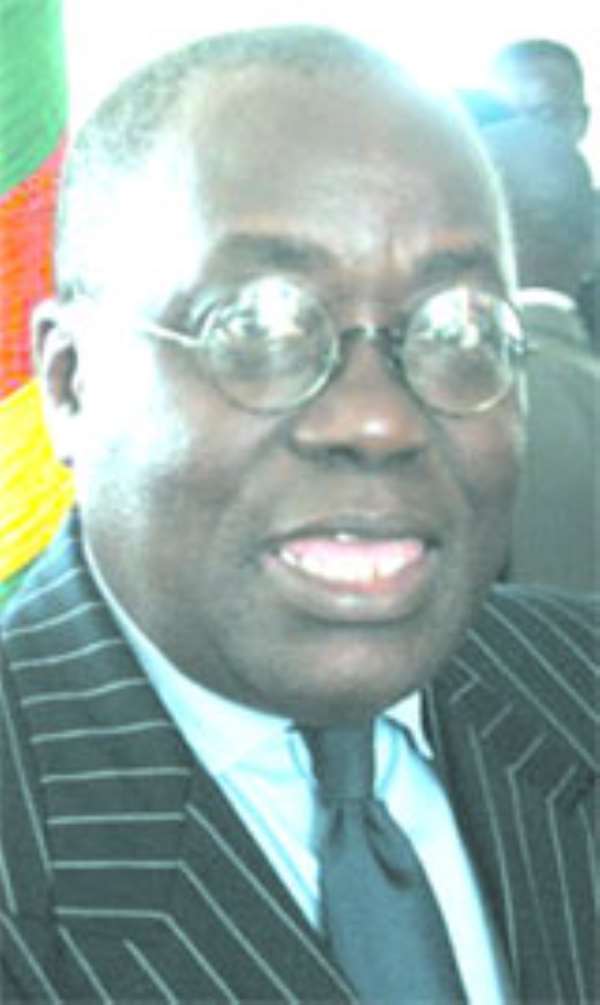 The UK and Ireland branch of The New Patriotic Party would like to congratulate Nana Addo Dankwa Akufo Addo on his assumption of the mantle as the NPP Flagbearer for election 2008. We in UK and we would like to believe the entire NPP members see Nana's victory as a victory for the Party and an endorsement of the party's principle for rewarding service and loyalty. The party's decision reinforces the "Ye nim wo firi tete" slogan the members created for you and also the fact that you have dedicated your entire adult life to the cause of the party and mother Ghana in its quest for democracy.
The UK and Ireland branch of NPP would also like to thank the other contestants, especially Hon. Allan Kyeremateng for his magnanimous gesture in conceding defeat and pledging his full support to Nana Akufo-Addo. Besides the party, there were no winners at Legon, and certainly there were no losers, instead we saw magnificent seventeen other candidates who put up a good fight. The National Executive Committee led by the Party Chairman Mr. Mac Manu, and the committee that oversaw the elections deserve special praise in not taking things for granted and finally the President, H.E. John Agyekum Kufuor for endorsing his successor as Flagbearer and God willing his successor as the next President of Ghana.
In Nana Akufo-Addo, the Party sees the next leader who we can all unite behind for election victory in 2008 and who is going to build on the successes of President Kufuor's economic stability in order to let the economy take off. If there is any body in the NPP who fully understands and has demonstrated in their lifetime the pursuance of the ideals of the Daquah/Busia/Dombo - the ideals of a free and fair democratic society in which individuals' potentials are unleashed for national economic prosperity, it is Nana Addo Dankwa Akufo-Addo.
The 2500 delegates, who assembled in Legon over the two days of 22nd and 23rd December, deserve commendation for taking a decision that has proved so right, conscientious and so principled. You are the true foot soldiers and you deserve every commendation. AYEKOO!!
To Nana Addo, we say your choice as the next leader has come at a crucial time when Ghana needs the NPP to remain in power as the natural party to govern our good people. We must therefore do every thing to convince Ghanaians that we cannot afford another backward turn to doom and gloom. This is our straight forward task.
We in NPP UK and Ireland assure you of our full determination to fully endorse and support your leadership promise to stand shoulder to shoulder with you in the campaign to deliver election 2008.
The NPP UK would finally like to thank the Ghanaians in UK and Ireland for their continued support for the Party and their words of encouragement, especially in the run up to this Congress. We would also like to thank the media here in UK especially Rainbow, WBLS, Kasapa, Hot, GFM and Afrique Fm for their role in educating Ghanaians about political development in Ghana. We thank you all
Hayford Atta-Krufi
Chairman, on behalf of NPP UK & Ireland