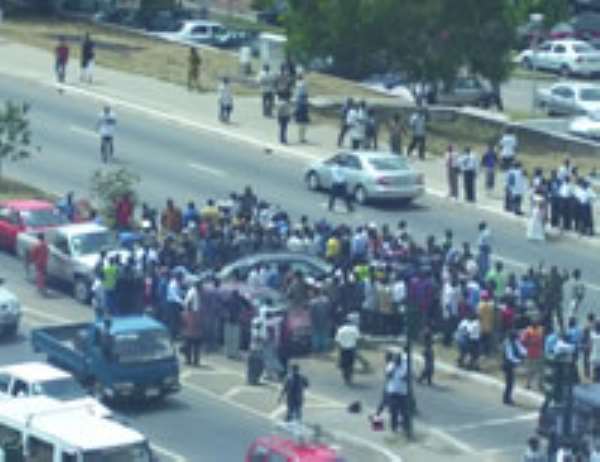 Mr. Thomas Osei, the man whose car crashed into that of President Kufuor in November of 2007, marked his 45th day in custody with a second bail plea refusal on Monday.
The trial judge in the case in which Osei is facing some six traffic and narcotic charges, agreed with prosecution that he might jump bail and therefore remanded him when he appeared in court.
Among the charges Osei faces are dangerous driving, negligently causing harm, driving under the influence of alcohol, failing to give way to the President's convoy, and the use of narcotic drugs.
He has denied all the charges.
Justice E.K. Ayibi had declined Osei's application for bail a fortnight ago to grant police investigators more time to complete investigation and ruled that the application was premature.
The prosecution, led by the Director of Public Prosecution, Gertrude Aikins, told the court on Monday it would be ready to commence full scale prosecution of the case come next week and was particular about the narcotic charge against Osei for which it urged the court to keep him.
Counsel for Osei, Kwame Akufo, refuted the claim of narcotic charge against his client and insisted no evidence had been adduced to support that charge, reminding the court that his client had earlier been denied bail on the grounds that his application was premature.
The court will reconvene on January 17.