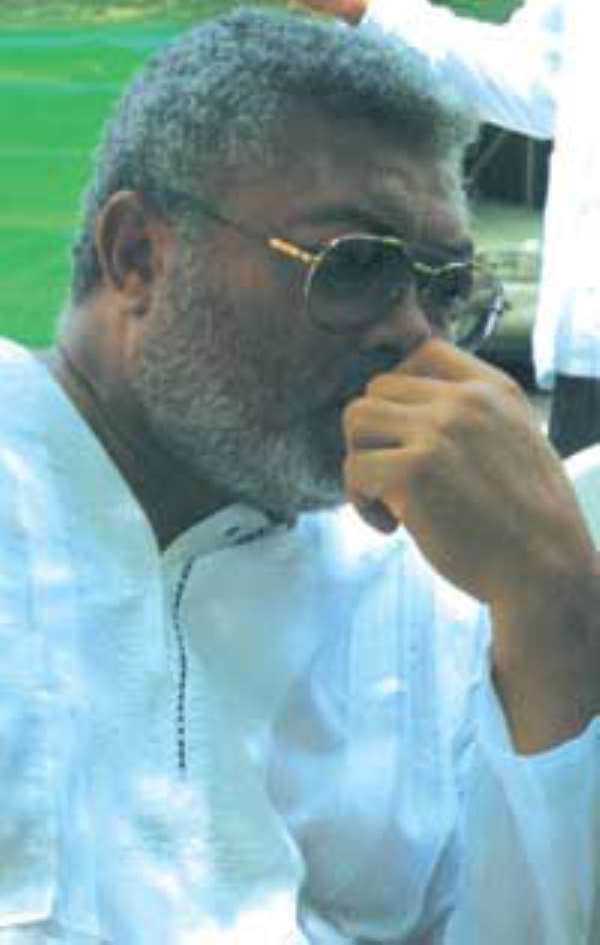 Last Friday the leadership of the NDC met in the house of the former president and founder of the NDC, Mr. Jerry Rawlings to brainstorm on how to get the party's campaign off the ground.
The founder once again set the tone by lamenting on the ineffectiveness of the campaign being run by the Flagbearer and former Vice President, Prof. John Evans Atta Mills.
Speaker after speaker at the meeting expressed alarm at the momentum Nana Addo Dankwah Akufo-Addo had gained shortly after coming out of the NPP congress.
Chronicle sources indicated that the NDC stalwarts described the Atta Mills' campaign as invisible.
When Mills who had been subdued for a larger part of the meeting eventually took the floor, he mounted a spirited defence of his campaign team and strategy.
He insisted that his campaign was going on well especially the door-to- door campaign which he added had made a great impact and that his team was responding and commenting on all-important national and international issues.
Another issue that came up for discussion was the running mate. With front runner John Mahama, playing hard to get the nod, the group concluded that the party's running mate for 2004, Mohammed Mumuni should "get on his marks and get set to go".
Mills who had allegedly avoided direct meeting with the Bole- Bamboi legislator was however ordered to meet with him by the close of this week.
The source insisted that the strategy was aimed at absolving the party of any blame in the event that Mahama was not named as the running mate.
In a telephone interview yesterday, Deputy General Secretary of the party, Elvis Afriyie Ankrah denied that the issue of a running mate came up during the said meeting adding that they only met to talk about the way forward for the party.
He however admitted that the issue about running mate came up but Prof. Mills insisted it was not subject for discussion.
Present at the meeting were the National Chairman of the party, Mr. Kwabena Adjei, General Secretary, Johnson Asiedu Nketia, Deputy minority leader, Doe Adjaho, MP for Asutifi North, Collins Dauda, MP for Upper Manya Krobo, Michael Nyanor, and former MP for Awutu Senya, Hannah Tetteh Kpoda, Alex Segbefia, and campaign coordinator for Prof Mills.